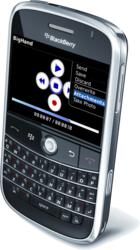 The main thing is that the clients are really demanding a response in a short time. That is key for our business. BigHand helps us to meet these demands.
(PRWEB UK) 21 November 2012
BigHand, the market leading voice productivity software vendor in the global legal and professional services sector, has today announced that leading German law firm, Hengeler Mueller, is rolling out BigHand digital dictation workflow software and BigHand's smartphone apps to equip fee-earners with the tools required to respond to clients faster, improving client service.
Ralf Kaiser, head of IT at Hengeler Mueller, says that BigHand's smartphone apps have enabled the firm to leverage additional value from existing mobile devices by allowing lawyers to use their smartphones to record dictations from any location. With BigHand, those dictations can then be submitted instantly for transcription, eliminating the need to dock a dictaphone for voice files to reach a secretary, meaning the finished document can be produced much more quickly. From their smartphone lawyers can also monitor how quickly dictations move through the system, ensuring deadlines are met.
Dr Achim Herfs, one of the first partners at Hengeler Mueller to use the BigHand technology on his BlackBerry, notes the positive impact of the software and comments:
"If you are sitting in an airport lounge, you can dictate and send it to your secretary and she can immediately transcribe it, you don't need an extra device. With the portable dictation devices we were using before BigHand, you could dictate while you were away, but then you would have to upload it and send it."
Prior to implementing BigHand, Hengeler Mueller was one of the first German firms to implement digital dictation using portable dictation devices, but the project lost momentum as lawyers lost confidence in this initial system. The firm then tried BigHand workflow dictation software with the BigHand smartphone apps as an alternative, which has reinvigorated lawyer confidence in the benefits of digital dictation.
Kaiser comments:
"The portable digital dictation devices that we tried using initially, had to be brought back to the secretary, but when using BigHand, the BlackBerry® or smartphone works as the transport medium. I can dictate, send it to my secretary and I don't really need to care how it gets there."
"The main thing is that the clients are really demanding a response in a short time. That is key for our business. BigHand helps us to meet these demands."
BigHand's workflow digital dictation software and smartphone apps are part of an integrated voice productivity platform which increases productivity and flexibility whilst reducing costs. BigHand is leading the way in delivering low-risk deployments to increase efficiency for legal and professional services firms.
-ENDS-
About BigHand:
The BigHand Group supports over 160,000 professionals globally, across 1,500 organisations, and is based out of London, Chicago, Sydney and Toronto. BigHand's voice productivity technology combines workflow digital dictation, smartphone applications and speech recognition, helping firms get more done via voice. BigHand is a Microsoft Gold Partner, VMWare Elite Partner, Citrix Ready Technology Partner and Elite BlackBerry ISV Partner. BigHand was voted 'Best Customer Service' at The KnowList Awards 2012.
Further info is available at http://www.bighand.com.
Contact: Molly Martin, Marketing Executive, EMEA Legal & Professional Services, BigHand Ltd
Email: molly.martin(at)bighand(dot)com, Tel: +44 (0)20 7940 5949