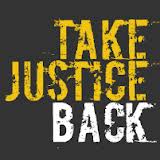 Take Justice Back is an outstanding program that involves real people dealing with the justice system and the abuses that happen every day in the hands of big companies who have the money and power to manipulate the system
Sacramento, CA (PRWEB) November 20, 2012
The American Association for Justice has announced a new campaign to teach Americans the facts about our civil justice system. The program, called Take Justice Back, explains how large corporations are spending millions to limit consumer rights, and advocates that Americans can "take justice back" by educating and empowering themselves to fight this concentrated effort to limit their liberties and protections under the civil justice system.
Take Justice Back is composed of five components:

Education. The program will educate Americans about how their rights are threatened by large corporations and their efforts to stop consumers from filing lawsuits for defective products. It will also raise awareness about other legal issues that arise in their dealings with these companies.
Motivation. The program shares the stories of real people who have battled with these corporations and have been denied justice by our legal system. It also showcases the large amounts of money these companies put into fighting lawsuits.
Engagement. The program will utilize social media, including Facebook and Twitter, to share information with the public.
Empowerment. The program will empower activism by allowing people to share information, sign petitions, and link to their own blogs about these issues.
Sacramento personal injury attorney John Demas comments, "Take Justice Back is an outstanding program that involves real people dealing with the justice system and the abuses that happen every day in the hands of big companies who have the money and power to manipulate the system. My office will be linking to the Take Justice Back feeds on Twitter and Facebook, as well as adding the logo on our website for easy access by visitors. We will also be sharing client stories with the organization, so that more people can hear about experiences with flawed justice from our clients. I will also be writing blog posts and sharing them on the subjects of tort reform and related topics. It is my sincere hope that by joining hands across the state and nation, we--the people--can take justice back from the hands of super-corporations who have manipulated the legal system for their own benefit. Readers can learn more by visiting http://www.TakeJusticeBack.com, the website for this organization."
About Demas Law Group, P.C.
John Demas is a partner in the firm of Demas Law Group, P.C., a Sacramento personal injury firm that responds to victims' needs by providing legal representation for those who have been injured in accidents or by defective products. Whether these victims have suffered injuries in a vehicular accident, as a pedestrian or bicyclist, or have endured problems related to a slip-and-fall accident or a dog bite, Demas Law Group believes in giving each client the very best legal advice and representation available and protecting their rights to the fullest extent possible.
Attributes: Take Justice Back, http://www.TakeJusticeBack.com.