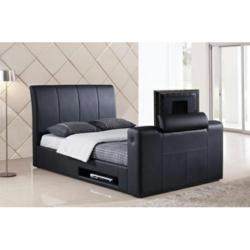 FurnitureInFashion Bed Bonanza with the Launch of the Jupiter Faux Leather TV bed
(PRWEB UK) 25 November 2012
When it comes to innovation and cutting edge designs in furniture, FurnitureInFashion took a lead in the online retail market with the launch of the contemporary and modern Jupiter Faux leather TV bed. FurnitureInFashion is offering maximum luxury and innovation in a bed for homeowners with the launch of Jupiter faux leather TV bed which offers an attached space where homeowners can display their TV set to view their favorite movies or TV show by relaxing in their cozy leather bed. The leather finish of Jupiter is meant for all seasons to come which makes this bed an ideal investment for everyone. The owner and Managing Director of FurnitureInFashion Asad Shamim said, "Jupiter faux leather TV bed is our unique and highly modern addition to our bedroom range. We believe in adding unique sense of style in every bedroom and by following it, we have launched this exquisite bed. We understand the importance of relaxing hours for people. Realizing it, we have launched this bed so that people can spend their leisure hours by snuggling in Jupiter leather bed and watch TV or a movie with their family. We hope to make great sales with this bed because of its innovative style and distinct functionality."
The Jupiter Faux Leather TV bed is made of classy black faux leather finish which gives a fabulous look with its lustrous shine. Mr. Asad said, "Using leather in this bed is purely for the purpose of providing maximum convenience. You can maintain this bed very easily as leather is easy to manage. You can buy leather cleaning and shining sprays to keep your Jupiter TV bed in fantastic shape. With this bed, you can incorporate traditional, modern or contemporary décor theme as leather can settle well with any given ambiance."
The Jupiter faux leather TV bed has a fantastic curved headboard and straight footboard with wonderful detailing. The curved headboard has an excellent height which gives a luxurious impact to the overall look of the bed. The TV space on this bed is available on the footboard. The maximum TV size that can fit in is up to 32 inches with ideal distance from the headboard. Mr. Asad said, "We have taken special care in keeping an ideal distance between the headboard and footboard so that your eyes wouldn't feel strain while watching TV. The distance is perfect for your peaceful sleep as you wouldn't have to worry about damaging your TV as well."
The Jupiter faux leather TV bed comes with a DVD tray as well on the side. This will allow the homeowners to save a lot of space as they wouldn't have to install extra table for keeping DVD and other entertainment items. The TV feature in this bed can help homeowners to avoid the use of extra tables hence using the available space for other items.
Mr. Asad Sahmim said, "Cushions and mattress are not included with the bed. We have tried to offer functionality, style, practicality and comfort in one package of Jupiter faux leather TV bed. This entertainment unit can make nice addition in your furniture collection and makes your bedroom look more upscale and refined. This comfortable bed is ideal for fulfilling your bedroom requirements like sitting and' sleeping. It will best suit your home decorating style and personal taste." Price is the reflection of best standard and quality of this marvelous product.
About FurnitureInFashion
FurnitureInFashion is a UK based online retail business. It supplies furniture items from its German based warehouse and has a showroom in Bolton, UK. The company provides everything from umbrella stand wall art and room dividers to bedroom, bar stools and computer tables. FurnitureInFashion offers excellent free delivery within UK and has a fantastic customer service as well. For further information and details about the sale, visit http://www.furnitureinfashion.net