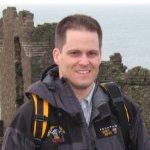 Madison Heights, MI (PRWEB) November 21, 2012
Moosejaw, the irreverent multi-channel retailer specializing in outdoor apparel and gear, recently welcomed Dan Pingree as their new VP of Marketing.
Pingree comes to Moosejaw with an extensive e-commerce background. For the past 5 years, he led the Health Category Microsite Division at Drugstore.com where he launched and managed five health and beauty category sites. Prior to this, he held a variety of marketing, product management, and finance leadership positions at Microsoft.
"We are very pleased to have Dan join the team," said Eoin Comerford, Moosejaw's President & CEO. "First off, he's very tall. Second, he brings a wealth of great e-commerce skills from his days with Drugstore.com and Microsoft. The clincher is that he's an avid outdoor enthusiast that really uses the products that he'll be marketing." Comerford also added, "That last part made us overlook the fact that he has a Harvard MBA."
At Moosejaw, Pingree will oversee marketing initiatives across paid, search, social, email, content, creative and brick & mortar channels.
"I'm thrilled to join a company that sells all the products and gear I've been accumulating and using for years. Marketing these items is sure to make this habit a little bit worse and a lot more expensive. Moosejaw has certainly made a name for itself within retail marketing and I couldn't be more excited to work with such a fantastic team. I'm also looking forward to the Ping Pong Power Hour I've heard so much about," says Pingree.
Now that he's in the industry, Pingree plans to work as hard as he's played. In the past 7 years, Pingree as summited Denali, Aconcagua, and Mt. Elbrus and is beginning to plan an Everest expedition.
With Pingree as the VP of Marketing, Moosejaw expects to make great strides in their mission to sell the best outdoor gear on the planet and have the most fun doing it.
# # #
At Moosejaw we sell the best outdoor gear and apparel in the world and have the most fun possible while doing it. Our goal is to engage customers with our unique brand voice and a little youthful enthusiasm. We call it Moosejaw madness. Moosejaw offers products from The North Face, Arc'teryx, Patagonia, Mountain Hardwear, and Black Diamond as well as under its own Moosejaw brand. The company serves a diverse customer base including serious outdoor enthusiasts, active individuals pursuing an outdoor lifestyle, and high school and college students who are passionate about the Moosejaw brand. Moosejaw operates through Moosejaw.com as well as eleven retail stores.