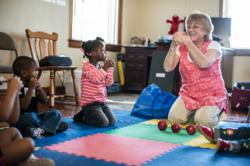 Boston, MA. (PRWEB) November 20, 2012
Wolf Trap Foundation for the Performing Arts—a national leader in the performing arts and arts education—is partnering with Boston Children's Museum to bring its specialized Master Teaching Artists to early-childhood classrooms throughout the city during the weeks of November 26, and December 10, respectively. During this unique One-Week Residency Program, Wolf Trap Teaching Artists will join preschool teachers in the classroom to integrate arts-based learning strategies into existing school curriculum to strengthen children's creative problem-solving and aptitude for the future. Wolf Trap's approach has been the subject of independent research that documents the impact of arts-based learning strategies on children's cognitive and social development and school readiness in areas including emergent literacy, math, communication and creativity.
The residencies will be delivered at ABCD Allston/Brighton Head Start in Brighton and United South End Settlements in Boston, and have been funded by The Lincoln and Therese Filene Foundation, a major Wolf Trap supporter since the early 70s and a longstanding advocate for early childhood work in the Boston area.
In addition to the multi-session classroom residencies, the Wolf Trap program features two professional development workshops for administrators, teachers and specialists. In each of these sessions, Wolf Trap Master Teaching Artists Mary Gresock and Kofi Dennis will provide instruction, and collaborate with participants, on ways to engage children in active multisensory learning. In addition to the professional development workshops, the artists plan to host a family workshop for the families of the children they have been teaching during the week.
"The Wolf Trap Teaching Artist residencies offer preschoolers from Boston an engaging and innovative new way to learn in the classroom," said Akua Kouyate, Wolf Trap's Senior Director, Education. "We are pleased to be part of this effort to enhance learning experiences for as many young children, parents, and educators in Boston as possible. We'd also like to thank Boston Children's Museum for their role in selecting the ABCD Allston/Brighton Head Start and United South End Settlements to experience this program, and the Filene Foundation for their generous funding."
"The Museum is pleased to have been part of this extraordinary partnership since 2001 and has brought incredible arts teaching and experiences to young children in Head Start, preschool and Boston Public School kindergartens across the city," said Jeri Robinson, the Museum's VP of Education and Family Learning.
The Wolf Trap Institute is an internationally respected program that provides innovative arts-based teaching strategies and services in more than 1,000 classrooms serving 35,000 young children, their parents, educators, and teaching artists, each year. Since 1981, the Institute has been integrating the arts, including music, movement, story-telling and drama, into preschool and kindergarten curriculum to enhance language, literacy, math and science learning.
For more information about the Wolf Trap Institute for Early Learning Through the Arts, contact Mary Henderson, Program Manager, Professional Development (maryh(at)wolftrap(dot)org; 800-404-8461 or 703-937-6306).
About The Wolf Trap Foundation for the Performing Arts
The Wolf Trap Foundation for the Performing Arts, a 501(c)(3) nonprofit, founded by Catherine Filene Shouse (1896-1994), produces and presents a full range of performance and education programs in the Greater Washington area, as well as nationally and internationally. Wolf Trap features three performance venues, the outdoor Filene Center and Children's Theatre-in-the-Woods, both located at Wolf Trap National Park for the Performing Arts, and the Barns at Wolf Trap, located down the road from the park and adjacent to the Center for Education at Wolf Trap. In partnership with the National Park Service, The 7,028-seat Filene Center annually showcases an extensive list of diverse artists, ranging from pop, country, folk, and blues to classical music, dance, and theater, as well as multimedia presentations from May through September. The Barns operates year round, and during the summer months is home to the Grammy-nominated Wolf Trap Opera Company, one of America's outstanding resident ensemble programs for young opera singers. Wolf Trap's education programs include the nationally acclaimed Wolf Trap Institute for Early Learning Through the Arts, Children's Theatre-in-the-Woods, a diverse array of arts education classes, scholarships, and a nationally recognized internship program that was included in Bloomberg BusinessWeek's 2009 List of "Best Places to Intern." As part of its ongoing commitment to protect and preserve the environment, Wolf Trap offers metro access and is a founding member of the Green Music Group. Terrence D. Jones is president and CEO of the Wolf Trap Foundation for the Performing Arts.
Visit the Wolf Trap Web site at http://www.wolftrap.org for more information.