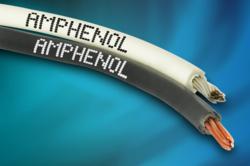 Sidney, N.Y. (PRWEB) November 20, 2012
Amphenol Industrial Global Operations, a global leader in interconnect systems, now offers a single jacket photovoltaic (PV) cable used for interconnection wiring in grounded and ungrounded PV systems. Amphenol's PowerLink solar cable is ideal for use on utility solar farms and in commercial and residential solar projects.
Designed with a smaller outer diameter than a standard dual jacket, the single jacket PV cable is more malleable and makes crimping connectors easier. It is also available for fast delivery.
The new cable, which is offered from 6 AWG to 18 AWG, is sunlight resistant and suitable for direct burial. It has a temperature rating of 90°C wet or dry and a cold bend of -40°C. Its voltage rating ranges from 600 V to 2000 V. This new RoHS compliant, UL4703-rated cable has a flammability rating of VW-1.
Unlike a dual jacket cable that is only available in black to meet 720UV requirements, the PowerLink solar cable is manufactured in a variety of colors including black, white, red, blue, green, yellow and orange.
For more information, please visit http://www.amphenol-industrial.com or e-mail energy(at)amphenol-aio(dot)com.
For high res download and full text:
http://www.simongroup.com/PressRoom/press-release.php?Job=ASE-A-0001
READER SERVICE INQUIRIES: Please forward all reader service inquiries to Monte Baker at Amphenol Industrial Global Operations, Amphenol Corporation, 40-60 Delaware Ave, Sidney, N.Y., 13838-1395; e-mail: mbaker(at)amphenol-aio(dot)com; Web: http://www.amphenol-industrial.com.
EDITOR'S NOTE: Amphenol Industrial Global Operations, headquartered in a 675,000 square foot facility in Sidney, N.Y., provides a full range of high reliability connectors and interconnection systems specifically for the industrial markets including base stations, rail/mass transit, process control, automotive manufacturing, heavy equipment, and petrochemical/power generation.
Products include ruggedized-for-industry cylindrical, fiber optic, rectangular, and industrialized versions of Amphenol's MIL-DTL-5015 cylindrical, MIL-DTL-26482 miniature cylindrical and GT reverse bayonet cylindrical connectors. It employs more than 1,400 people and is both ISO9001 and MIL-STD-790 certified.
Amphenol Industrial Global Operations is a division of Amphenol Corporation, Wallingford, CT, one of the largest manufacturers of interconnect products in the world, with year 2011 sales topping $3.9 billion.