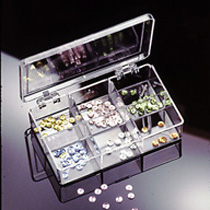 The new blender allows us to get a more efficient blend of materials and increases our efficiency, so that we can keep up with the growing sales volume of our plastic boxes
Fitchburg, MA (PRWEB) November 28, 2012
Alpha Rho Inc. is proud to announce its purchase of the 100 Series Blender from Maguire Products, Inc. in order to produce its line of rigid plastic boxes more efficiently. The blender is used to mix various components needed in the molding process. Previously this method was flawed as it was inaccurate, labor intensive, and inefficient.
According to David Tall, President of Alpha Rho Inc, "the new blender allows us to get a more efficient blend of materials and increases our efficiency, so that we can keep up with the growing sales volume of our plastic boxes."
The 100 Series Weigh Scale Blender from Maguire Products provides a practical and affordable means for molders and extruders with small processing equipment to blend color or additives with extremely high precision. One of the smallest machines of this type, the unit weighs and blends up to four components at rates up to 450 lbs/hr (204 kg/hr). Moreover, the accuracy and material flow rate is continually monitored and each batch is followed by a correction routine which will eliminate any mistakes and hold the batch to batch blend ratio rate at a constant 0.1%.
The advanced error- correction logic recognizes even miniscule errors and makes a correction for perfect blend ratio every time. It is processes such as this one which allow Alpha Rho Inc. to produce the perfect mixture and therefore the perfect product every time.
Alpha Rho Inc manufactures a wide assortment of rigid plastic boxes and novelty plastic items. The plastic boxes are suitable for many applications including beads, jewelry, hardware items, and food products. Approaching its 50th year in business, Alpha Rho Inc. is an environmentally conscious, just-in-time supplier of rigid plastic boxes.Click here for a video of the manufacturing process.
For samples, catalogs and order requirements, please visit http://www.alpharho.com or phone at 978-345-6717.