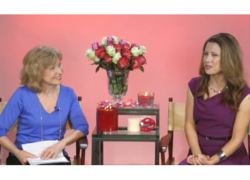 Baby Boomer women need to change the way they think about sex.
(PRWEB) November 28, 2012
Sex expert Dr. Trina Read was interviewed by Dianne Morris, Editor of ZestNow.com. The website features news, inspiration for women living their best lives after 50. The video is also featured on YouTube.
Sex for Baby Boomers changes after menopause she explains. Tips for sex in long-term relationships is also a special focus. A new sexual toy is helpful as shown.
Dr. Read reveals people with active sex lives are healthier overall — from improved immune systems and lower levels of depression and stress to better heart and pelvic health.
What's more, sexual satisfaction has been linked to stronger bodies.
Sexual health is just as important as emotional and physical health according to Dr. Read. She has a straightforward but charming and intelligent approach, which also addresses important issues for older men.
Dr. Read is a relationship columnist, media expert, best selling author, syndicated blogger read by over 2 million viewers, relationship coach, international speaker, spokeswoman, and magazine and newspaper columnist. She's the author of the books Till Sex Do Us Part: Make Your Married Sex Irresistible and Everything You Wanted to Know About Sex: Volumes I, II & III.