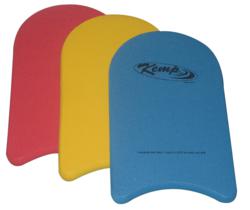 Highest Quality Kickboard
Huntington Beach, CA (PRWEB) November 20, 2012
Lifeguard Master introduces a new and improved kickboard designed to be more efficient moving through water. This is perfect for swim teams when doing drills or for training.
When working out, training, or when doing drills with a swim team, a quality trust worthy kickboard is essential for success. The board must be rigid and be made of excellent material. Lifeguard Master's new kickboard is made of EVA foam that will not chip, break, or absorb water. The kickboard is reliable and ensures a positive experience for those who want to improve their swimming abilities. To find out more about the kickboard, click here.
When designing this kickboard, careful thought was put into making sure the board was comfortable and to use. The intent was to ensure that the swimmer would have firm grip of the board while in an easy position. Having to hold a kickboard in an awkward position does not allow the swimmer to maximize his or her potential. This board ensures that problem does not occur. In addition, the board's sleek designed allows swimmers to cut through the water seamlessly. The kickboard also offers a contoured bottom to fit every form. This is especially important for swim teams who complete in various types of races.
The board comes in two sizes and serves different purposes for beginners and more advanced swimmers. The smaller size provides less floatation support and promotes kick. This board is designed for more advanced swimmers who do not need as much floatation support and want to focus on improving their kick in the water. The smaller size also inhibits swimmers from lying on the board and using it as a crutch while practicing their kick. The larger size is designed to provide more floatation support for beginners who may be learning how to learn. The board is also recommended for recreational swimmers trying to develop a faster kick in the water. For more information about the board, go to http://www.lifeguardmaster.com/products/SwimTeamKickBoards
If a kickboard is needed to improve the swimmer's kick in the water, this is ideal for the job. When all the above is put together, comfort and cost is never compromised. This kickboard not only is of great quality and provides comfort when in the pool, but Lifeguard Master is also featuring the board as their must-have item and offering a great price. For more information on how to get a kickboard that is designed to improve swimming abilities, go to Swim Kickboards.
Lifeguard Master has been in the swimming industry for years and is quickly becoming leaders in swim team supplies. For more information regarding this and to see our complete line of kickboards, please visit our website, send us an e-mail, or give us a call. Thank you. Please visit us at: http://www.lifeguardmaster.com/KICKBOARDS
Sammy
Lifeguard Master
(714) 605-3090
http://www.LifeguardMaster.com