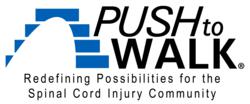 If it were not for our amazing supporters sticking by our side, our doors may not have remained open.
Riverdale, NJ (PRWEB) November 27, 2012
Wednesday, December 5, 2012 Push to Walk will launch its year-end appeal by mailing out thousands of letters to its supporters. The letters are a small attempt at thanking donors and providing them with some insight into what they have helped the organization achieve. The mailing will be followed with an email campaign, which will highlight more specific gym stories and client accomplishments.
Push to Walk's clients work hard year round to maintain their physical health and wellness. In return the non-profit sets up fundraisers and events all year to offset operating expenses, rather than raising client fees like other organizations often do. Push to Walk is committed to keeping the hourly rate as affordable as possible.
This will be Push to Walk's third year sending appeal letters and has had positive results in the past. In its first two years the organization raised close to $30,000 and hopes to add to that total substantially. The year-end campaign titled "A Little Push Goes a Long Way" embodies what matters most to Push to Walk, the small improvements for clients and how they can make the biggest of differences, and also the idea that small donations are meaningful and important.
Push to Walk is able to cover only about 65% of its operating costs through client fees, and relies on fundraising events to help make up the difference. "Being a small non-profit we are real believers in every penny counting," says Cynthia Templeton, Push to Walk President. "If it were not for our amazing supporters sticking by our side, our doors may not have remained open."
Donation opportunities are available on the Push to Walk website: http://www.pushtowalknj.org. Checks can also be sent to Push to Walk at 6 N. Corporate Drive, Riverdale, NJ 07457. For more information, please contact Stephanie Lajam at (862) 200-5848 or slajam(at)pushtowalknj(dot)org.
About Push to Walk
Founded in 2007, Push to Walk is the only non-profit specialized exercise gym in the New York-New Jersey area that empowers people with spinal cord injuries to realize their individual potential. Push to Walk's rigorous one-on-one workout approach challenges clients to reach their personal goals and achieve maximum independence, leading to greater success and fulfillment in their personal and professional lives.
A 501(C)3 non-profit, Push to Walk is located in Riverdale, New Jersey. Visit http://www.pushtowalknj.org to learn more.