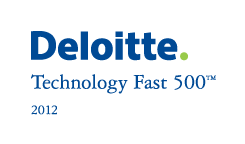 Averna is an example of a company that shows the passion, determination and drive that are so important for growth in the North American technology sector
Montreal, Canada (PRWEB) November 21, 2012
Averna, an industry-leading developer of test solutions and services for communications and electronics device-makers worldwide, announced today its inclusion in the prestigious Deloitte Technology Fast 50™ and Fast 500™. These programs rank the fastest growing technology, media, telecommunications, life sciences and clean technology companies in Canada and North America respectively. Based on a 392% fiscal year revenue growth during the period 2007-2011, Averna ranked 21 on the Technology Fast 50™ in Canada, and 213 on the Technology Fast 500™ in North America.
Now in its 15th year, the Deloitte Technology Fast 50™ program recognizes leaders in the Canadian technology industry and tracks the successful growth of Canadian-grown global leaders. The program augments the broader Deloitte North American Technology Fast 500™ initiative, with winners automatically eligible for this elite ranking.
"Fast 50™ and Fast 500™ companies innovate, demonstrate entrepreneurship, create jobs, and invest in R&D," said Richard Lee, National Leader, Technology, Media & Telecommunications Industry Group, Deloitte. "Averna is an example of a company that shows the passion, determination and drive that are so important for growth in the North American technology sector."
To qualify for the Deloitte Technology Fast 50™ ranking, companies must have been in business for at least five years, have revenues of at least $5 million, be headquartered in Canada, own proprietary technology, and conduct research and development activities in Canada. A panel of industry experts evaluates and judges companies based on four key criteria: competitive advantage; size, growth, and market attractiveness; management effectiveness and organization; and financial performance.
"This recognition is another exciting milestone for Averna, and we're extremely honored to be included on both these prestigious lists," said John Morris, CFO for Averna. "As a company we have remained focused on providing OEMs worldwide with solutions to help them deliver a better end-user customer experience. Our growth is a reflection of this focus and the ingenuity of a talented pool of employees."
Click to Tweet: From @Avernatech: Averna Named to Deloitte's 2012 Technology #Fast50CA and #Fast500, congrats to the whole team! Thank you @DeloitteTMT and @DeloitteCanada
About Averna
Averna is a premier test and quality solution provider for communications and electronics device makers worldwide, helping them deliver a better end-user customer experience. Key Averna clients in the communications, aerospace, defense, automotive, consumer electronics, and medical device industries use Proligent, RF Test Instruments, and other test solutions to accelerate product development, reduce manufacturing costs, achieve superior quality throughout the lifecycle, and solve critical supply-chain issues. Averna has offices and sales partners around the world. Incorporated in 1999, Averna is a Best in Test award winner, an Ernst & Young Entrepreneur of the Year® recipient, and has been honored as one of the Deloitte Fast 500™ fastest-growing technology companies in North America. http://www.averna.com
About the Deloitte Technology Fast 50™ and Fast 500™
The Deloitte Technology Fast 50™ program is Canada's pre-eminent technology awards program. Celebrating business growth, innovation and entrepreneurship, the program features four distinct categories including the Technology Fast 50™ Ranking, Companies-to-Watch Awards (early-stage Canadian tech companies in business less than five years, with the potential to be a future Deloitte Technology Fast 50™ candidate), Leadership Awards (companies that demonstrate technological leadership in four industry subcategories: hardware/semiconductor, software, telecommunications and emerging technologies) and the Deloitte Technology Green 15™ Awards (Canada's leading GreenTech companies that promote a more efficient use and re-use of the earth's resources in industrial production and consumption.) Program sponsors include Deloitte, Gowlings, Wellington Financial, TMX Group, HUB International HKMB, National Angel Capital Organization, CVCA, MaRS and IGLOO Software. For further information, visit http://www.fast50.ca.
In order to be eligible for Technology Fast 500™ recognition, companies must own proprietary intellectual property or technology that is sold to customers in products that contribute to a majority of the company's operating revenues. Companies must have base-year operating revenues of at least $50,000 USD or CD, and current-year operating revenues of at least $5 million USD or CD. Additionally, companies must be in business for a minimum of five years, and be headquartered within North America.