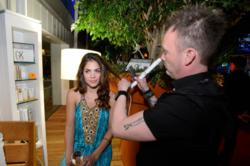 Fort Lauderdale, FL (PRWEB) November 21, 2012
GKhair appeared poised and positioned to primp A-list Hollywood stars at the TV Guide Hot List party! The event was held on November 12th at SkyBar in the Mondrian hotel in Hollywood. GKhair featured our signature platform stylist, Jeff Duckwall at the swanky "Hot Hair Styling Station" reserved exclusively for sprucing up celebrities strands and making them red carpet ready! Maroon 5's front man, Adam Levine stopped by the event as well as Jimmy Kimmel, Katie Cassidy, Molly McNearney and some of the cast members from the Vampire Diaries, Pretty Little Liars, Revenge, Glee and The Walking Dead. In addition GKhair's Serum and ThermalStyleHer Cream premièred in VIP gift bags and given to all celebrity attendees. It was an unseasonably cold night in Tinsel Town but the TV Guide Hot List party surely sizzled up Sunset Strip!
About GKhair
GKhair began with the vision and values of the CEO and founder Van Tibolli. From the start Van has been an innovator in "the science of hair." His concept is very simple; develop and create the best products in the professional hair industry. GKhair's advanced hair care products are based heavily on science to deliver beautiful, healthy and manageable hair. GKhair continuously invests in research and development to advance the science of creating beautiful hair.
GKhair's signature Hair Taming System with Juvexin, as well as its aftercare products and styling tools are used and recommended by top hair professionals in the finest salons throughout the world.
"It's all about beautiful hair." GKhair is the leader in industry haircare education and
innovative artistry. For additional information please visit http://www.gkhair.com