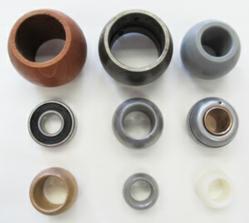 Oshkosh, WI (PRWEB) November 27, 2012
Triangle's bearing mounts, including pillow block, flange and custom mountings, are now available to a wider segment of the industrial market because of expanded compatibility with a wider range of bearing materials. Triangle's own spherical plain bearings have a plethora of uses, however they are restricted by their use of oil or grease and by their limitations with marine applications. These newly available diverse materials, ranging from iron to plastic to wood, allow Triangle's mountings to be used in industries beyond agriculture and small automotive. Triangle's ability to customize mountings allows for a more flexible product, wider applications and far-reach solutions to customers across the globe.
Customers routinely call and request assemblies appropriate for medical and food processing applications. Triangle is able to offer stainless-steel mountings with plastic or nylon bearing balls, which are hygienic and resistant to corrosion and chemical washes. Triangle mountings are also routinely used with wooden bearing balls, that can be utilized in wet conditions, such as paddle boats. Typical sintered powdered metal bearings such as iron and bronze are also available with compatible, rugged stamped mountings. Triangle is excited about widening their industrial reach with new bearing material options and a wealth of new possible customers.
About Triangle Manufacturing
For almost a century, Oshkosh, Wisconsin's Triangle Manufacturing Company has used a foundation of experience, paired with technical know-how and advanced automation to be the leader in fully customizable metal fabrication, product innovation and invention. We have introduced and redesigned fresh products that are progressive in their respective industries. Whether you need lazy susan bearings and HVAC components, pillow block mountings and blower bearing brackets or rod ends and direct-drive motor mounts, you can rely on Triangle Manufacturing's Creative Engineering. For more information, samples or quotes, visit us at http://www.TriangleOshkosh.com.
Contact:
Kylie McGowan
Marketing Coordinator
http://www.TriangleOshkosh.com
info(at)triangleoshkosh(dot)com