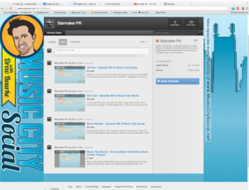 Part of the show's success is being a proud member of the Independent Content Providers Association
Nashville, TN (PRWEB) November 21, 2012
On November 22, 2012, an interview with Andy Childs from ABC's hit television show Nashville will air on the new Nashville audio program, Music City Social. Andy discusses his being on the ABC television show, his solo recording contract with RCA Records, his band Sixwire recording with Warner Brothers Records, and also what it was like to be a finalist on FOX TV's, Next Great American Band.
Andy Childs moved to Nashville from Memphis, Tennessee in the eighties, and is now known as the lead singer for Sixwire, was a solo recording artist on RCA records in the mid-nineties, a finalist on FOX TV's Next Great American Band, and currently co-owns and operates Veritable Music Group, a boutique music publishing company located on Music Row. Andy's long history in the music business has certainly had its up's and down's, but according to him, "All experiences up till now have been preparation for managing my new music publishing company, Veritable Music". Andy Childs is well-known in Nashville due to multi-talented role as musician, songwriter, publisher and performer for many of country music's best-known acts.
Andy is currently both an actor/musician on ABC's hit television show Nashville, where he plays guitar and sings in the band for make believe country music artist, Rayna James.
Music City Social launched on November 1, 2012, has come out of the gate blazing with controversy. Produced by Starmaker PR Group and hosted by 25-year Nashville veteran, Drew Bourke, the weekly audio program interviews people in the music business, asking questions about the challenges musicians and recording artists face when pursuing a career in music. Though Music City Social is only three weeks old, it has attained a rather large viewing audience boasting over 1200 views on YouTube in less than three days of its launch, along with numerous downloads from the Music City Social website, Stitcher Radio and iTunes. "Part of the show's success is the traffic created from our partnership with The Independent Content Providers Association", said Mr. Bourke.
According to Mr. Bourke, "Music Row has a lot of stories to tell. Yet, many of these stories are known only by the people who've lived them. The goal of Music City Social is to allow people to tell their sides of their stories, and also to give Nashville newcomers advice on networking and succeeding in the music business. I wish this show had been here when I first moved to Nashville. The advice my guests give every week is simply invaluable".
For more information about Music City Social, Drew Bourke or Andy Childs, visit http://www.MusicCitySocial.net, or the Music City Social YouTube Channel at http://www.youtube.com/MusicCitySocial.