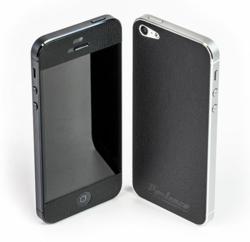 "Who doesn't love free stuff? 15% off everything else doesn't hurt, either. Just our way of saying thanks!"
Saint Louis, MO (PRWEB) November 24, 2012
Portenzo, the original made to order case company, is taking part in Cyber Monday by offering two deals that are too good to pass up. At shop.portenzo.com all of their cases for iPad, iPhone and Nexus 15% off. Every case, every style, every color, even the premium Alano series. This deal lasts one day only. Discounts are good toward the purchase of any case for the iPad, iPad mini, iPhone, Nexus 7 and Kindle.
Shoppers can enter coupon code CM15 at checkout to get 15% off all products. (Gift Certificates not included)
While there, be sure to grab the FREE Portenzo Premium Morocco Skin for iPhone. These skins are extremely durable and very stylish. The Morocco faux leather finish has just the right amount of texture to make the phone easier to hold, yet are so thin, you can hardly tell they are on. The grain of Moroccan leather adds to the sleek sophistication of the iPhone.
While other skins only cover the back, the Portenzo Premium Morocco Skin for iPhone also includes coverage for the front of the phone. Additional pieces cover the top and bottom of the front glass, thereby keeping the front glass above any hard surface you lay it on, while keeping the touchscreen area completely unobstructed.
The Portenzo Premium Morocco Skin for iPhone is available to the first 200 visitors. Use coupon code CMSK at checkout.
The crew at Portenzo takes extreme pride in delivering products that are unique and stylish. These luxurious journal styled cases and skins are the perfect compliment to any device. Handcrafted in U.S.A., Portenzo brings old world book binding techniques to life. They have a nostalgic look and feel of a favorite journal while incorporating the latest technologies. The attention to detail on every Portenzo case is exceptional, as each one is handmade to every customer's unique specifications. These deals, and much more, are available at http://shop.portenzo.com/.