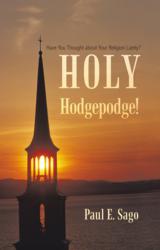 If religion is as important to us as we claim... it deserves our serious personal consideration."
TULSA, Okla. (PRWEB) November 21, 2012
More people abandon organized religion everyday, and, according to some reports, many identify themselves as atheists in its place.
"Young people especially seem to have a problem with some of the guilt in religion," says Paul Sago, who served 52 years in organized religion. "They resent being told what to believe and what not to believe."
In his new book Holy Hodgepodge, Sago encourages readers to reflect on their beliefs without directing them toward any particular belief system.
With questions at the end of each chapter prompting reflection, Sago urges readers to plan a more personal spiritual journey and not give up because of doctrinal differences with the church.
"We often simply borrow or accept what someone else tells us," says Sago. "But if religion is as important to us as we claim, determining both our here and hereafter, it deserves our serious personal consideration."
Blending personal experience with theological reflection, Holy Hodgepodge provides a unique examination of religion and view of religion today.
Holy Hodgepodge: Have You Thought about Your Religion Lately?
By Paul Sago
ISBN: 978-1-4502-9752-3
Softcover retail price: $12.95
Hardcover retail price: $22.95
E-book price: $9.99
About the author
Paul Sago was pastor of four churches, vice president of three church-related colleges and president of two universities, one church-related, before retirement. He received his doctorate of philosophy from Walden University. Raised in the Ozark Mountains, he loves nature and the unique differences in individuals. He currently resides in Tulsa, Okla. with his wife Donna.