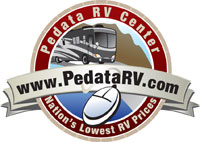 Maintain your vehicle well and it will serve you well and last longer than you might expect.
Phoenix, AZ (PRWEB) November 21, 2012
Pedata RV Center advises drivers to consider whether or not they are in control of their RV when on the road. Recreational vehicle stability and control is one of the major factors of RV safety. Ensuring that the vehicle stability is at optimum levels is also vital for the safety of other drivers on the road. Every RV owner and driver should be aware of the signs that could indicate a lack of proper vehicle stability.
Vehicle stability means the driver should be able to stop, turn, and swerve at the exact moment and in the exact amount desired. Vital to this function are: shocks and struts. They react to every vehicle movement and/or obstacle your RV encounters. Worn shocks or struts can lead to inappropriate dip, sway, bounce or over-reactions to driver indications. This means reduced braking ability, unnecessary tire and component wear and an increased difficult in retaining control of the vehicle.
RV shocks and struts are both maintenance parts meaning they need to be regularly replaced for maximum performance and safety. Shocks/struts should be inspected annually by a qualified technician. Units that have completely failed may exhibit one or more of the following situations: hydraulic fluid leak, uneven or "cupped" tire wear, knocking or rattling noises, vehicle swaying and/or the need for constant steering corrections.
Gerard Pedata of Pedata RV Center said, "Everyone wants their RV to be responsive and safe. Maintain your vehicle well and it will serve you well and last longer than you might expect."
Pedata RV Center sells used RVs, travel trailers, fifth wheels, campers, and motor homes. A full inventory is accessible online and due to low overhead costs, Pedata is able to offer competitive pricing in their industry. Easy access to industry and recreational vehicle information allows consumers to have access to the specific knowledge they need to ensure their purchase results in long-term satisfaction