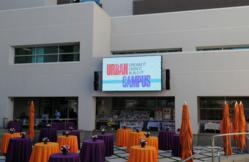 Lighthouse is proud to be a part of the YWCA GLA's Job Corps Urban Campus.
Irvine, CA (PRWEB) November 21, 2012
LED display leader Lighthouse has teamed with Cibola Systems to provide a 160″ x 90″ Lighthouse Pi7ER LED video display to the YWCA Greater Los Angeles Job Corps Urban Campus.
LIGHTHOUSE LED DISPLAY HIGHLIGHTS
With 7mm visual resolution, Lighthouse's latest Pi7-ER LED display offers a higher effective image resolution from the same size panel as its 16mm counterpart. Featuring 6,000 nits brightness, Lighthouse's award winning M4 color uniformity system and weatherproof design, the Pi7-ER LED video display is the ideal choice for outdoor fixed applications. Pi7-ER's modular design and slim casing make installation simple. The best and most economical choice for a multitude of fixed installations, like shopping malls, transportation and arenas.
Founded in 1894, the YWCA Greater Los Angeles (YWCA/GLA) is a women's membership movement built on the mission of eliminating racism and empowering women. The YWCA/GLA touches over 100,000 individuals annually through various programs that include affordable child-care, after-school youth programs, economic empowerment, job training and housing, and sexual assault crisis services. Additionally, YWCA/GLA addresses racial justice and public policy, which are intertwined through all aspects of programs and service areas.
Construction was completed on the YWCA GLA Job Corps Urban Campus in December 2011 and was officially occupied by residential Job Corps students, Job Corps training centers, Job Corps staff and YWCA GLA staff by April 2012. The new Urban Campus building benefits the Los Angeles Job Corps center and the population served and was built to replace old and outdated service facilities as well as to house the YWCA Administrative Offices.
"Cibola Systems has enjoyed the opportunity to work so closely with the YWCA and was excited to weave this technology into a space that has become very important to the students of the local Job Corps," said Brian Presley, Business Development Manager with Cibola Systems.
The Lighthouse Pi7ER LED display was integrated into the campus's Brian Daher Memorial Courtyard by Cibola Systems, an Orange County, California audiovisual firm specializing in consulting, facility design, and integrated system technologies. The YWCA GLA uses the Lighthouse LED video display to inform and entertain their residential students in the courtyard's relaxed setting.
"We're proud to be a part of the YWCA GLA's Job Corps Urban Campus," said Ed Whitaker, Lighthouse NASA Director of Sales. "It's a great chance to provide our products to an organization that does so much good for so many."
~END~
Lighthouse is a leader in LED video display technology that develops, manufactures, and markets LED video solutions for multiple indoor & outdoor applications, media & entertainment events, and sports arenas across the globe. With numerous technological breakthroughs to its name, Lighthouse has established itself as a multi award-winning leader in the LED video industry that holds itself to the highest standards of quality.
Employing the most advanced technology, the highest manufacturing facilities, and world-class, round-the-clock technical support, Lighthouse satisfies customers and captivates the imaginations of millions. For more information about Lighthouse, please visit http://www.lighthouse-nasa.com/.
From its inception in 1971, Cibola Systems Corporation has been committed to supporting the local community and improving the environment. Located in Orange County, California, Cibola Systems is an audiovisual firm specializing in consulting, facility design, and integrated system technologies, to improve group communication. Cibola Systems is certified by both InfoComm and GSA for excellence in audiovisual consulting and integration. For over 40 years, Cibola has provided audiovisual solutions to leading business and organizations in an array of industries such as Media, Education, Business, Healthcare, Government, and Law. For more information about Cibola Systems, please visit http://www.cibolasystems.com/.