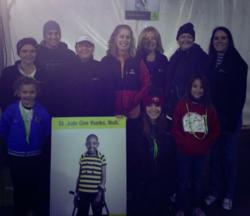 I am thankful that they are there for the families that need them
(PRWEB) November 22, 2012
HR Strategies was proud to have seven staff members and their families walk in this important fundraiser, and was very pleased that those staff members were able to raise approximately $1450. To show support of St. Jude and the staff members' fundraising, HR Strategies matched the employees fund raising efforts 100%.
HR Strategies recognizes the importance of St. Jude as it is "internationally recognized for its pioneering research and treatment of children with cancer and other life-threatening diseases. The hospital's research has helped push overall survival rates for childhood cancer from less than 20 percent when the institution opened to almost 80 percent today. It is the first and only National Cancer Institute designated Comprehensive Cancer Center devoted solely to children, and no family ever pays St. Jude for care."
MariaElena Ayala, VP of Client Services stated "I am thankful for my three healthy children. As a parent I know firsthand how difficult it is when we see one of them ill. That's why I feel so strongly about helping St. Jude Children's Research Hospital. I am thankful that they are there for the families that need them." Her sentiments rang true throughout the company and HR Strategies hopes that you will also choose to support St. Jude Children's Research Hospital.
About HR Strategies
HR Strategies provides the customizable HR solutions (including but not limited to payroll, benefits, workers compensation, tax administration, regulatory compliance, HR consulting, training solutions) and expertise of a large corporation's personnel department in an affordable and effective solution. HR Strategies enables clients to reclaim time, stabilize and reduce labor costs, and stay compliant with government regulations.