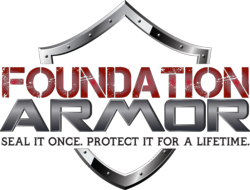 Foundation Armor concrete sealers are guaraneed to Waterproof, Strengthen, and Protect (TM) concrete, brick, and masonry for a lifetime.
United States (PRWEB) November 22, 2012
Foundation Armor manufactures concrete sealers that are guaranteed to waterproof, strengthen, and protect™ concrete for a lifetime. Their sealers undergo a chemical reaction below the surface of the concrete which forms a crystalline barrier within the pores. This barrier, once dry, stops water migration and hydrostatic pressure up to 100 PSI and vapor migration up to 0.015 WVT.
The same sealers that were once only available to industrial, commercial, and government agencies are now available to homeowners. Foundation Armor sealers are sold in concentrated form and one gallon of sealer will cover up to 1,250 square feet. Their sealers are diluted with warm water and applied with a garden sprayer. One application is guaranteed to last a lifetime.
"We manufacture the most versatile sealers on the market," says Co-Founder Benjamin Moore. "They can be used on interior and exterior applications, and they don't change the look, texture, or surface of the concrete. The concrete is strengthened by up to 45% and becomes impermeable to water and moisture. We are excited to now offer our industrial grade sealers to homeowners and small contractors."
Foundation Armor concrete sealers are used for basement waterproofing, in foundations as vapor barriers, on concrete driveways and roof tiles, for sealing storm shelters, on concrete pavers, bricks and more.
Homeowners also have access to Foundation Armor's wide selection of concrete repair products. Foundation Armor offers free technical support 24/7 and all products are backed with a lifetime guarantee.