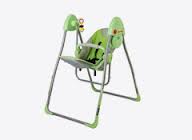 The government decided to enact these new standards due to 351 reported incidents involving infant swings between 2009 and 2012, two of which resulted in fatalities. The new standards will take effect on May 7, 2013
Sacramento, CA (PRWEB) November 23, 2012
The Consumer Product Safety Commission has announced its approval of a new set of federal standards regarding safety in infant swings. Several accidents involving these devices have led the federal government to require the following new safety features on all infant swings:

Stronger and more explicit warning labels. A number of "slump-over" deaths have occurred with unattended infants in swings. Consumers are warned to use the device in the reclined position until the child is at least four months old.
Stability testing. The new regulations require that manufacturers test these devices to be sure they will not tip over with the weight of a child.
Folding testing. A new test for unintentional folding is also required.
Restraint system testing. The safety restraints in each unit are now required to be tested for slippage or breaking.
Testing for levelness. The swing surface must remain flat while at rest and in motion.
Testing for overheating. Electrically-powered swings must be tested for battery leakage and overheating.
Toy mobile stability. Toy mobiles must not detach when pulled.
Shoulder straps required. Any seat that angles more than 50 degrees must have shoulder restraints.
Load requirements. Both dynamic and static loads must be handled safely according to manufacturer specifications.
The government decided to enact these new standards due to 351 reported incidents involving infant swings between 2009 and 2012, two of which resulted in fatalities. The new standards will take effect on May 7, 2013.
John Demas notes, "Federal safety standards are designed to give manufacturers guidelines for expected safety. Any victim who suffers an injury before these new standards are in place can collect damages for a defective product, but those who suffer injuries after the guidelines are in place--with newly-purchased products--may have a stronger product liability issue. If a company refuses to comply with the new standards, it may face punitive damages in addition to the compensatory damages paid in a product liability case."
About Demas Law Group, P.C.: John Demas is a product liability attorney in Sacramento who assists victims not only with defective product cases but also with car accident injury cases, motorcycle, bicycle and pedestrian accidents, ATV and watercraft collisions, dog bites, and slip-and-fall cases. Demas Law Group attorneys are dedicated to protecting victim rights and helping these victims recover fair and adequate compensation from negligent parties.
Attributes: Consumer Product Safety Commission, "CPSC Approves New Federal Safety Standard for Infant Swings," November 13, 2012.