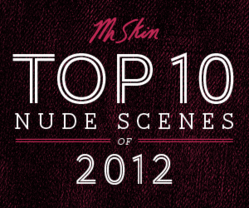 Thanks to long awaited nude debuts from Sarah Silverman, Kristen Stewart, and Olivia Munn, many dreams were realized this year
Chicago, IL (PRWEB) November 26, 2012
With another year of outstanding celebrity nudity drawing to a close, Mr. Skin of MrSkin.com--the world's #1 resource for celebrity nudity--has announced the Top Ten Nude Scenes of 2012.
Plenty of celebrities dared to bare in 2012, but only the hottest, sexiest, and greatest nude scenes from the past 12 months have made the cut. So raise your glass and pop your cork to bountiful boob tube babes like Sophie Rundle and silver screen sirens like Olivia Munn. You can watch all ten titillating scenes at MrSkin.com or check out the full list of the Top 10 Celebrity Nude Scenes of 2012 below!
1. Ashley Hinshaw in About Cherry
Beachy blonde Ashley Hinshaw started her showbiz career with a slew of skin free teen dramas, and then unveiled the ripe fruits on her chest for five topless scenes in About Cherry (2012). Now that's how you pop your nudity cherry!
2. Michelle Williams & Sarah Silverman in Take This Waltz
Sarah Silverman tickled a lot more than funny bones with her furry full frontal debut alongside Michelle Williams in Take This Waltz. The well-lit shower scene will provoke a one-handed tango.
3. Sophie Rundle in Episodes
Sophie Rundle played Matt LeBlanc's stalker on the Showtime series Episodes, but it's inconceivable that anyone would want to get away from those huge, natural knockers.
4. Helen Hunt in The Sessions
Girl-next-door Helen Hunt made her topless debut in The Waterdance (1992). 20 years later she proved she's still got it with a spectacular full frontal reveal in The Surrogate (2012). We're Mad About Pubes!
5. Olivia Munn in Magic Mike
Olivia Munn nearly slipped her Munn-chables by us by getting naked for the first time in the male stripper movie Magic Mike (2012). Those mams are magical!
6. Camilla Luddington in Californication
Camilla Luddington starred as the titular princess in Lifetime's royal wedding movie, William & Kate (2011), but her skinny-dipping scene in Californication was her real crowing achievement.
7. Ali Cobrin in American Reunion
We've been waiting for Ali Cobrin's nude debut since she answered an American Reunion (2012) casting call that included "Please note upper frontal nudity is required". The pastries on her chest were even better than we could have imagined.
8. Jessica Marais in Magic City
Jessica Marais won us over with her spectacular T&A in the first episode of the Starz series Magic City, then really sealed the deal by getting nude in practically every episode afterwards.
9. Sarah Power in Californication
Sarah Power's colossal cans are so spectacular that when she made her nude debut on Californication, David Duchovny declared she should win a "Mr. Skin Award." We agree.
10. Kristen Stewart in On the Road
Kristen Stewart shot to fame in the teen vampire movie Twilight (2008), and then doffed her top to encourage a whole new beat generation in Jack Kerouac's On the Road (2012).
"Thanks to long awaited nude debuts from Sarah Silverman, Kristen Stewart, and Olivia Munn, many dreams were realized this year," said Mr. Skin from his headquarters in Chicago. "Now we're focused on the future, a bright, shining future full of celebrity skin."
For media inquires on this topic and/or to book Mr. Skin for an interview, contact Pete McMurray at (312) 933-5963 or by email at Pete(at)mrskin(dot)com.
About Mr. Skin and MrSkin.com
Mr. Skin is the world's foremost authority on celebrity nudity. His website - MrSkin.com - is the #1 online resource for celebrity nudity news and reviews. MrSkin.com attracts more than 8 million users every month who come to experience the site's vast library of celebrity nudity material - more than 20,000 actress bios, 30,000 movie and TV show reviews, plus over 200,000 photos and videos. Mr. Skin is one of the most sought-after guests in radio and The Mr. Skin Minute can be heard every week on The Howard Stern Show. MrSkin.com played a pivotal role in the blockbuster Hollywood comedy Knocked Up (2007). The Mr. Skin Skinpire has been profiled in The New York Times, The Wall Street Journal, USA Today, Playboy, Maxim, The Chicago Tribune, The Chicago Sun-Times, and The New York Post. Mr. Skin has also appeared as a celebrity nudity expert on VH1, E!, BBC, and Comedy Central. Be sure to follow Mr. Skin on Facebook and Twitter.