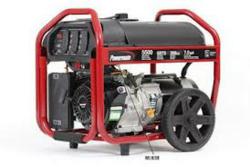 Any American companies that distribute foreign-made products have a legal duty to ensure the safety of these products
Sacramento, CA (PRWEB) November 24, 2012
The Consumer Product Safety Commission has issued a voluntary recall of about 7,700 portable generators manufactured by Powermate and sold through Home Depot. The recall stems from a fuel filter leak that may pose a risk of fire for users. So far, no injuries have been reported, although at least 51 reports of leaking fuel filters have been filed with the company.
The generator in question is the Powermate Sx 5500 portable generator manufactured by Am Pride Chongqing Senci IMP of China and imported by Pramac America LLC of Kearney, Nebraska. The generator has "Powermate 5500" printed on the side. The unit is black and has wheels. The generators have the model name Sx5500 and model number PM0125500, which is printed on a plate on the rear of the unit along with the serial numbers. Serial numbers of recalled units will follow the number conventions of K003xxxxxQ through K090xxxxxQ. The units were sold at Home Depot from February 2012 through August 2012.
Consumers should immediately stop using the generators and contact the company for a free repair kit. Pramac America LLC can be reached at (800) 445-1805 from 7 a.m. to 5 p.m. central time Monday through Friday or by visiting the company's web site at http://www.powermate.com. On the website, click the Generator tab and the Expert Advice, then the Service Notification link.
John Demas of Demas Law Group, P.C., notes, "Any American companies that distribute foreign-made products have a legal duty to ensure the safety of these products. In many cases, products arrive in the United States that have been crafted to different standards than those here. It is still up to these companies to ensure that the products meet all U.S. safety requirements. In the case of these generators, it is obvious that quality control was lacking. Any victims who have suffered injuries as a result of these generators could be entitled to compensation for their medical bills and other costs, including pain and suffering. Anyone who is injured by a defective product should seek the advice of a personal injury attorney as soon as possible, as there are time limits that govern the filing of product liability cases."
About Demas Law Group, P.C.: Demas Law Group is a law firm in Sacramento that handles product liability cases, as well as suits against negligent drivers, abusive caregivers in nursing homes, and negligent property owners. Victims who have suffered personal injury as the result of someone else's negligence can often recover damages for those injuries with the help of sound legal advice and representation. Anyone who has suffered a personal injury can request a free initial consultation with an attorney at Demas Law Group.
Attributes: Consumer Product Safety Commission, "Powermate Generators Recall to Repair by Pramac America Due to Fire Hazard; Sold Exclusively at Home Depot," November 13, 2012.