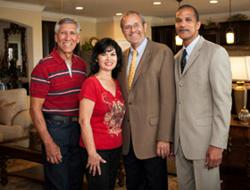 Houston, TX (PRWEB) November 27, 2012
As the story of Star Furniture goes, three Houston men started a small-time furniture company in 1912. They made door-to-door sales calls and deliveries with a horse and wagon. 100 years later, Star Furniture is the longest-running furniture store in Texas and a leader in the furniture industry, with 11 stores in four cities and 750 employees.
Today, Star focuses on providing home furnishings with a high taste level and an emphasis on good design. They keep interior designers in-store so every customer has the opportunity to get a polished look for their home. Interior design assistance is free.
The furniture company has celebrated in several ways this year, most memorably with a 100th Purchase Free giveaway during their Sale of the Century in April. During that sale, every 100th purchase made at Star was absolutely free, regardless of size. Star Furniture gave away a quarter of a million dollars' worth of furniture to 73 customers in Houston, Bryan, San Antonio and Austin. One particularly lucky couple received their purchase of over $40,000 in furniture, rugs and custom draperies for free. Other events throughout the year included employee receptions, public sales, and private discounts for customers who are signed up for Star Furniture's mailing list.
Through partnership with local nonprofits, Star Furniture has had a big impact on the communities it serves. Most notably, Star and its employees run an annual campaign for the United Way of Greater Houston, Brazos Valley, San Antonio and Austin.
Chairman of the Board Melvyn Wolff, was inducted last month into the American Furniture Hall of Fame. He and his sister, Vice Chairman Shirley Toomim, are responsible for growing the company from a mom 'n pop storefront into the nationally recognized chain it is today.
About the company:
At Star Furniture, interior design is about much more than creating a "look." It's about designing a personalized space that is practical for each customer's lifestyle and home. Design service is absolutely free at Star Furniture. Their in-store designers are here to help make the shopping decisions easy, straightforward and affordable. They can pinpoint each style, sort through all options, and develop a design plan that balances function and aesthetics. For more information, please visit their website at http://www.starfurniture.com.