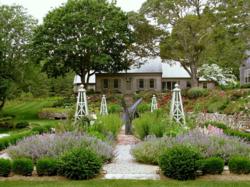 Today people are searching for ways to find happiness in their ordinary lives. These 'forces of nature' are defining how people find bliss in their own backyards through the extraordinary benefits of plants
Philadelphia, PA (PRWEB) November 28, 2012
Garden Media Group, the leading public relations agency and trend spotters in the lawn and garden industry, is drilling down with four more 'forces of nature" in its garden trends report for 2013. Natural, ground, air and aqua forces of nature each impact choices people make in their homes, gardens and landscapes.
"Today people are searching for ways to find happiness in their ordinary lives. These 'forces of nature' are defining how people find bliss in their own backyards through the extraordinary benefits of plants," explains Susan McCoy, president of Garden Media.
Check out these important trends that Susan McCoy and her team of trendspotters see on the horizon:
1. Natural Forces. Nature-inspired plants and garden products reflect the move toward 'naturing', working with nature to achieve the desired goal. From eco-scaping with low maintenance plants that incorporate sustainable design practices, to using natural solutions for weed and pest control, there's a growing awareness of using plants and products that are good to Mother Nature.
"Designing landscapes that incorporate elements like rocks, natural stone walls, and water, along with plants that provide color, texture and ease enhance natural contours and provide a tranquil backyard retreat," says Susan Olinger, president, Association of Professional Landscape Designers.
To keep pests from taking a bite out of any backyard activity, McCoy says the demand is up for products that are effective, yet safe, for people, plants and pets. "RESCUE!®'s eco-friendly and non-toxic traps lure pesky insects without the use of dangerous chemicals," McCoy says.
2. Ground Forces. From fashionable plant-based clothes and jewelry to growing plants in soils good for the earth, people are purchasing products that go beyond sustainable and instead, boost and heal the earth. People are beginning to learn the importance of gardening from the ground up and are taking a special interest in healthy soil and what goes into it. "Young gardeners are consciously selecting organic products over chemical solutions and are becoming better stewards of the earth," notes McCoy.
3. Air Forces. Air plants are the new terrariums and are popping up in fashion and interior décor. These little pieces of living art are taking center stage in homes, offices and schools. "Live indoor houseplants naturally purify the air we breathe of indoor toxins, and provide oxygen and humidity," McCoy says. Learn more about the benefits of plants that clean the air and make your life better.
4. Aqua forces. "Waterprint" is the new "carbon footprint." The need to reduce water consumption is driving the demand for drought tolerant plants, including succulents, ornamental grasses and natives. Ornamental water features such as fountains and ponds are getting smaller and the use of rain gardens, rainwater and graywater harvesting, and drip and water efficient irrigation is on the rise.
Keep an eye out for the last four trends in our Garden Trends Report Part 3, and visit http://www.gardenmediagroup.com to download our free 2013-14 Garden Trends Report.