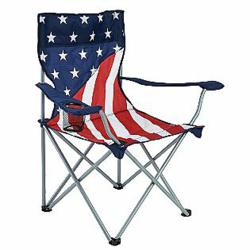 These chairs were found to contain mold varieties that can cause respiratory infections.
Sacramento, CA (PRWEB) November 25, 2012
The U.S. Consumer Product Safety Commission recently announced a voluntary recall of certain products sold by Big 5 Sporting Goods stores. The items involved in this recall include all Basin model Columbus™ folding camping chairs. The chairs have the words "style # CC3009-N" printed on a label that is attached to the side of the seat. The chairs are blue and have a foam-padded seat and back, as well adjustable straps and two additional straps that act as handles to carry the chair. The word "Columbus" is printed on the outer back of the seat.
These chairs were found to contain mold varieties that can cause respiratory infections. These risks are especially dangerous for individuals with compromised immune systems and other chronic health issues. So far, there have been no reports of illness associated with the use of these chairs. The 227 chairs in question were sold at Big 5 Sporting Goods stores between April 2012 and October 2012.
Consumers can contact Rec-Out, the importer of the chair, by calling the company on their toll-free number, (888) 885-9129, from 8 a.m. to 4 p.m. Eastern time Monday through Friday. Customers can also direct questions to the company by emailing them at customerservice(at)rec-out(dot)com.
Attorney John Demas notes, "When companies engage in voluntary recalls, it is often because they are trying to avoid problems with consumers who might be injured by the use of their products. While occasional problems will develop with products, a prudent company is pro-active about limiting the danger and damage caused by the items they manufacture or sell. By issuing this speedy voluntary recall of these chairs, Rec-Out is taking the proper steps to prevent consumers from being injured. However, this does not release the company from liability. If any respiratory or other illnesses develop in connection with the use of the chairs, the company will still be responsible for the damages victims may choose to pursue. A personal injury lawyer could discuss this issue with a potential victim and advise him or her about the rights of consumers when they are injured by defective products."
About Demas Law Group, P.C.: Demas Law Group, P.C. is a Sacramento personal injury law firm that represents victims of defective products, as well as those who have been hurt in car or truck accidents, motorcycle collisions, and pedestrian and bicycle crashes. Demas Law Group also represents victims of dog bites, slip-and-fall accidents, nursing home abuse, and other types of personal injury accidents. Attorneys from the Demas Law Group can help victims understand their rights regarding personal injury and how to recover damages for these injuries.
Attributes: Consumer Product Safety Commission, "Rec-Out Recalls Columbus Camping Chairs Due to Presence of Mold; Sold Exclusively at Big 5 Sporting Goods."