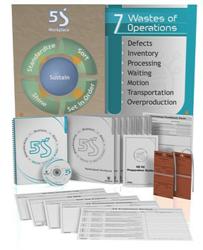 "Before we got involved with 5S program, we were struggling to keep up with our competitors. The 5S Solution Package really helped get our business back on track and we are now reaping the benefits."
Lake Oswego, OR (PRWEB) November 27, 2012
As any successful business owner will tell others, to be competitive in any market, the workplace must be organized, efficient and productive. To accomplish such a task is as simple as creating a 5S system and 5Stoday.com is now offering a variety of tools and products to help a business succeed. One of the first steps to get a good 5s program off the ground is by trying the 5S Version 2 Solution Package, add in the 5S into Action DVD or 5S Garage DVD that will give employees and audio and visual description and background on 5S. Along with the Solution package and DVDs, 5S Red Tags or 5S Adhesive Red Tags will aid in cleaning and organizing a workplace.
The 5S Version 2 Solution Package will empower the entire staff by allowing everyone to take ownership and maintain 5S in the workplace. The package includes facilitator guide, participant workbook, action log, map, register form, sustainment schedule, evaluation review form, red tags and posters. It will help an organization develop and conduct a world-class 5S program. The package is structured around the five steps to the 5S program as being sort, set in order, shine, standardize and sustain. The package is action oriented using a mixture of training room learning and shop floor implementation.
The 5S into Action DVD or the 5S garage DVD are excellent videos that will create the vision of what 5S should be to all employees. The video will provide a real perspective that communicates 5S to employees in a manner that allows them to truly understand 5S; empowering them to adopt the business's vision of a visual and sustainable workplace. A struggling business owner commented, "Before we got involved with 5S program, we were struggling to keep up with our competitors. The 5S Solution Package really helped get our business back on track and we are now reaping the benefits."
Please visit http://www.5stoday.com/what-is-5s/ or call toll-free (866)402-4776 to find out more information about 5S products and tools.