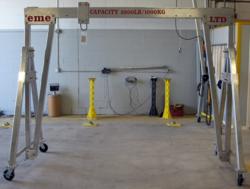 Fort Erie, Ontario (PRWEB) November 22, 2012
Easily Moved Equipment Inc., maker of lightweight, portable box-beam aluminum Gantry Cranes have announced they have launched their new LTD Gantry Crane series; an "Easy Order, Quick Ship" line of Gantry Cranes that will appeal to budget conscious customers who require top quality, safe lifting equipment without some of the features of the eme PRO Series Aluminum Gantry Crane line.
The LTD line of aluminum Gantry Cranes will be offered in five standard models: 1/2 tonne (1100 lb capacity), 1-tonne (2200 lb capacity) and 2-tonne (4400 lb capacity), Short or Tall a variety of standard beam lengths.
The PRO Series is offered in 1/2 tonne (1100 lbs), 1 tonne (2200 lbs), 2 tonne (4400 lbs), 3 tonne (6600 lbs), 4 tonne (8800 lbs) and 5-tonne (11000 lb) models, as well as Custom-dimension models.
In keeping with the high standards of the eme PRO Series Gantry Cranes, the eme LTD series Gantry Cranes are manufactured using all-North American made components, factory load tested to 150% of rated capacity, Stamped Engineer's Drawing with every unit and warranties against manufacturer's defects up to 10 years.
All eme Gantry Cranes are designed for "Ground-up assembly" without the need for rigging equipment. eme aluminum Gantry Cranes are designed to be moved when under load.
In keeping with the Company's standard of easy-to-use products, the LTD Gantry Cranes will allow the Company to service a broader client base who require top quality, ergonomic North American-made maintenance lifting devices.