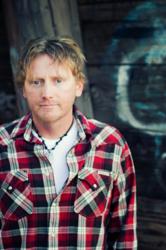 The holiday season is a magical time, but can also be very tough for people who are down on their luck.
Phoenix, Ariz. (PRWEB) November 21, 2012
When the busy holiday season has you feeling stressed, take a break to catch a performance of singer/songwriter Scott Helmer's Support YOUR Cause Tour 2012-2013. The 24 Nights leg of the tour will span over 3,000 miles, 9 states and more than 24 consecutive performances. "The holiday season is a magical time, but can also be very tough for people who are down on their luck," Helmer said. From Sidelines Grill in Chandler, Arizona on November 29th to Carson Valley Inn Casino, Minden, Nevada on December 25th, 24 Nights will make stops in California, Arizona, New Mexico, Texas, Colorado, Kansas, Utah, Wyoming and Nevada. During his tour shows, venues will be conducting their own fundraisers like food and toy drives to help people in need. In between shows, Helmer will also donate his own time to play in hospitals. "It can be a lonely time for those folks, so I'll help spread a little holiday cheer."
Helmer's debut album, Wake Me When It's Over, scheduled for release on January 23, will be made available free of charge to anyone who donates at least $5 to a good cause. The first single, Time To Say Goodbye, is already available for free and can be downloaded from http://www.scotthelmer.com/music. Getting the album is based on three easy steps: 1) Donate at least $5 to your favorite cause, 2) Forward your donation confirmation email or receipt to support(at)scotthelmer(dot)com, and 3) After Helmer's team confirms the donation, you'll receive the link to download the album. Helmer's goal with the album and tour is ambitious: He wants to raise $1 million in donations to good causes all around the world.
The contagious, radio-friendly blend of rock and pop music on Wake Me When It's Over was written and performed by Scott Helmer and his photographer-musician brother, Rich Helmer. The album was crafted at the Waterfront Studios of legendary producer Henry Hirsch, whose credits include Lenny Kravitz, Madonna and Mick Jagger. Hirsch also contributed to the effort by playing bass guitar and B3 organ. The songs describe journeys of pain and loss, but ultimately point towards a pathway of hope.
Helmer's tour is inspired by his own hard knocks. "In the last recession, I lost everything, including my business and my family," said Helmer. "We have to support the good organizations that offer lifelines to people in need." The tour, which kicked off on April 30, features solo acoustic performances of songs from the album and covers of Helmer's favorite rock and country hits. "I never expected this many bookings so early on. Now all we need is for 200,000 people to each donate $5 to their favorite cause to reach our ambitious goal," said Helmer. "And I think it'll happen."
Information and bookings for the Support YOUR Cause Tour 2012-2013 through the website, http://www.scotthelmer.com