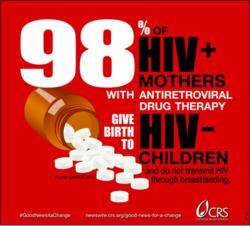 Too often, we focus on problems. We thought we'd take a different approach.
(PRWEB) November 20, 2012
In today's world, bad news about poverty, disease and disaster abounds. In the spirit of Thanksgiving, Catholic Relief Services offers another perspective. Good News—For a Change highlights major strides in the fight against global poverty that are making a real difference in people's lives.
This first annual report includes infographics that at a glance demonstrate the progress being made around the world, in part because of the generosity of the American people in the form of poverty-focused international humanitarian assistance as well as donations to private agencies like CRS. These infographics use metrics issued by widely recognized international agencies like the World Health Organization, UNICEF, UNECSO and UNAIDS.
"Too often, we focus on problems," said John Rivera, CRS Communications Director. "We thought we'd take a different approach. Drawing on our tradition of Catholic Social Teaching, with its focus on the Common Good and Integral Human Development, we decided we would emphasize both our grounding in the Gospel as well as our effective action for improving the lives of the people we serve. Hence, Good News—For a Change."
The infographics cover the gamut of humanitarian action:
· Between 1990 and 2010, over two billion people gained access to improved drinking water sources, such as piped supplies and protected wells.
· Guinea Worm disease (Dracunculiasis) is on the verge of eradication. While there were 3.2 million cases in 1986, fewer than 400 cases now exist in just four African countries (about 99% of transmission is occurring in South Sudan).
· In 2011, an estimated 6.9 million children died before their fifth birthday, compared to around 12 million in 1990. Rates of child mortality have fallen in all regions of the world in the last two decades.
· More girls around the world are attending school and advancing further than ever before.
· There are effective ways, with the use of antiretroviral drug therapy and related medical care, to prevent the transmission of HIV from mother to child in as many as 98% of cases.
Download the Good News – For a Change report containing all five infographics and text.
Journalists: the infographics in this report are available for your use. To download, go to photos.crs.org/infographics. Password is "photos."
###
Catholic Relief Services is the official international humanitarian agency of the Catholic community in the United States. The agency provides assistance to people in need in nearly 100 countries, without regard to race, religion or nationality. For more information, please visit http://www.crs.org or http://www.crsespanol.org.