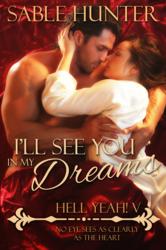 In the end, they find that they were made for each other.
Austin, Texas (PRWEB) November 21, 2012
The acclaimed "Hell Yeah!" series continues with its fifth installation being released next week. Although "I'll See You In My Dreams" is "Hell Yeah! V," it is Hunter's eighth time to visit the famous Tebow Ranch in central Texas.
Sable provides a small description, "Cowboy Heat (Hell Yeah! I) was not meant to be the first book in a series. I would have given the brothers better names if I intended them each to have their own book. However, I just fell in love with the characters and the story. It was very natural to just continue the adventure and see the events from the perspective of the different men."
The earlier books, "Hell Yeah!" 1-4, were the stories of the four eldest brothers in the McCoy family. Sable also wrote "A Brown-Eyed Handsome Man" as a promotional book available for free that occurs between the events of "Hell Yeah!" 3 and 4. In response to the cry for more from her readers, Hunter has completed "Hell Yeah! V." Like "ABEHM," the central male character is not a McCoy, but does live in the same neighborhood and frequently interacts with them.
"Dreams" follows the story of Zane Saucier (pronounced So-Shay), the attorney of the McCoy family and the brother of Kane (the protagonist of "ABEHM"). Zane struggles with blindness and all of the trappings that befall such a condition. Although his business thrives, he fears that a woman might not find him as desirable as a "whole man" as he calls them. Presley is a smart, powerful woman that is, similarly, not taken as seriously as she would like. Presley has a cleft lip and an ensuing lisp. In the sometimes heart-breaking, sometimes hilarious, and always hopeful and loving story that Sable creates, the two characters discover what really causes love to happen between two people. In the end, they find out they were made for each other.
Other titles that showcase the McCoy clan include the spinoff series "Cajun Spice." These books take place in Louisiana allowing Sable to exhibit another big part of her own culture. All of the characters permeate each book as it seems the author is inclined to never let them go.
An over-arching story that will be revealed piece-by-piece throughout Sable's books began in "Cajun Spice II – Forget Me Never." A beloved character, important to all of the books, has disappeared. "Dreams" promises to continue this mystery and reveal more information about the disappearance.
Sable Hunter has been writing erotic romance novels for nearly two years. She has been publishing many of them herself for almost that. Her influences are Lorelei James and Maya Banks. At one point, she had three books simultaneously on the Amazon.com "Movers & Shakers" list and one on "Hot New Releases." Interested readers can learn more about all of Sable Hunter's works at her newly redesigned website, sablehunter.com. Design credits go to Rae Monet, Inc. Design (raemonetinc.com). Also, don't forget to like Sable on Facebook (facebook.com/authorsablehunter) or follow her on twitter @huntersable.