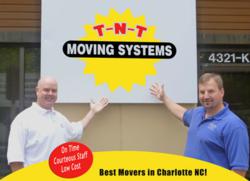 Charlotte movers advise booking early can literally mean the difference between making it to the closing table or not!
Charlotte, NC (PRWEB) November 26, 2012
Charlotte North Carolina movers are in high demand these days. Local Charlotte movers, T-N-T Moving Systems report a twenty-five percent increase in bookings as the Charlotte real estate market snaps back.
According to a report on National Public Radio, broadcast on November 15, even foreclosure victims are getting back into the housing market. Charlotte's housing market has improved since July, according to statistics available from real estate.com, which shows a sharp increase in sales prices for Charlotte homes beginning in summer and continuing to rise through today.
The increased activity is encouraging as an economic indicator and also for potential homebuyers, but Charlotte movers Tom Tulowiecki and Todd Koepke want to remind happy home buyers that getting from point A to point B needs to be addressed as soon as possible, to make sure consumers enjoy a seamless, easy transition.
"Most people are pretty excited and very busy when they move. Between negotiating repairs and keeping a house in showing order for an appraiser lots of people put off booking the actual move with a mover until the last minute," says Koepke. "The busier the housing market, the busier we are," he adds. And this, says Koepke, can literally mean the difference between making it to the closing table or not!
"You have to expect the unexpected when you're moving. Repairs and repair requests can be unusual and time consuming. Lots of people don't budget enough time for packing and preparing to be out on time. Time gets taken with business issues and the next thing you know, the closing is coming up and you can't possibly be out on time," according to Koepke.
"There's one easy way to prevent that stressful possibility. Hire your moving company in time so that you know you have a reliable, dependable team to get you out on time, even if it means packing for you."
Many people plan to pack on their own and then hire movers just to transport belongings to storage or to a new home. A good mover should be able to pack items, as well as move them. T-N-T delivers boxes, accepts returns on unused boxes, packs and moves clients. "If we got a call that a move had needed to be a pack and move job we would bend over backwards to make that happen for a client. But," adds Koepke, "the move needs to already be on our books."
The great news on the housing industry is great news for the moving industry. Busy movers are booking months in advance to accommodate eager home buyers. Need to get a great moving company booked for your next move? Contact Tom Tulowiecki or Todd Koepke at T-N-T Moving Systems at 704-523-1455 or visit their website at http://www.tntmovingsystems.com.