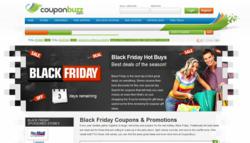 We are very excited to see what great new specials will be unveiled for Black Friday 2012.
Houston, TX (PRWEB) November 21, 2012
The biggest shopping day of the year is almost upon us! All across the nation stores brace for the onslaught of eager shoppers determined to get their hands on the latest and greatest of the Black Friday deals. For many stores, it's a mandatory work day for all employees, working peak-capacity shifts to deal with the demand. As the shopping day has evolved it has required retailers to develop an increasingly complex strategic plan, involving pre-selling, staggered release times, and this year, even Thanksgiving Day door-busters.
Online coupon aggregate website CouponBuzz.com is no exception to the detailed planning required to maximize the Black Friday shopping day. For popular, high-traffic merchants like Sony, they already have a dedicated web page where all of the current coupons and coupon codes are kept consistently updated by individual employees called Buzz Guides. But this year the Buzz Guides have an additional task – in addition to adding the Sony Black Friday deals to the Sony store page, they also include them on the new Black Friday web page at CouponBuzz.com. This special Black Friday section is dedicated to showcasing every Black Friday offer from the top-selling merchants on CouponBuzz.com, so look for great deals from electronics retailers other than Sony as well.
"Sony is always a really popular store for site visitors on Black Friday," said Justin Bowen, founder of CouponBuzz.com. "Historically, deals on digital cameras, laptops, and televisions top our sales charts. This year we will be including all of the Sony coupons as they go live online in our new Black Friday section, as well as the dedicated Sony store web page. We are very excited to see what great new specials will be unveiled for Black Friday 2012."
Consumers interested in checking out all of the Sony Black Friday offers as they become available (plus a few bonus pre-Black Friday sales) should definitely plan to visit the new Black Friday section to streamline their shopping experience. The link to CouponBuzz.com's Black Friday web page is as follows http://couponbuzz.com/seasonal/black-friday.