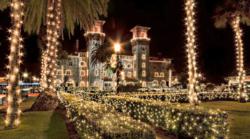 St. Augustine, FL (PRWEB) November 22, 2012
Augustine's famed Nights of Lights will sparkle to life at 6:30 p.m. on Saturday, November 17 when the flick of a switch will illuminate the nation's oldest city's historic district with the gentle glow of more than three million tiny white lights, providing a luminous setting for an exciting agenda of holiday events and fun through January 31.
Nights of Lights continues to gather praise from travel leaders worldwide:
Last year, National Geographic declared St. Augustine one of the Top 10 Places in the World to view holiday lights
Also in 2011, the American Bus Association named the annual spectacle one of the Top 100 Events in the U.S.
In 2009, AAA called St. Augustine one of the 12 best places in the U.S. and Canada to experience holiday cheer
Along with the lighting of the beautiful historic city, Vilano Beach and St. Augustine Beach will provide displays to be enjoyed by all. Vilano Beach is celebrating holiday coastal living with an inaugural event called "Dressing of the Palms" as palm trees along Vilano Road and A1A are decorated in whimsical holiday array. St. Augustine Beach will light-up on Saturday, December 1, during the Surf Illumination, where there will be a festive atmosphere, the official holiday lighting, and a visit from Santa.
The St. Johns County Convention Center at the World Golf Village is the setting for dozens of beautifully decorated Christmas Trees and Holiday Wreaths. From November 30, through December 10, visitors can vote for their favorite display, or bid on one of the entries through a silent auction.
In addition, on November 23, Winter Wonderland returns to the St. Augustine Amphitheatre with even more fun than before. Outdoor ice skating, a giant Ice Chute, carriage rides, fun for all ages and snow each evening - guaranteed through January 6. For more information, visit WinterWonderlandFL.com.
During the nearly 250 years when St. Augustine served as the capital of Spanish La Florida, the residents marked the holiday season with a single white candle burning in a window at each home. Today, the Nights of Lights continues that happy tradition in a grand style that reflects the city's 446 years of history. In addition to the enjoyment that comes from strolling the ancient streets lit by the glowing lights or enjoying the nightly reflection of lights on the waters of Matanzas Bay, both visitors and residents can enjoy a wide range of memorable events. For a complete list of Holiday Events, visit NightsofLights.com.
Located midway between Daytona Beach and Jacksonville, Florida's Historic Coast features historic St. Augustine, the outstanding golf and seaside elegance of Ponte Vedra, 42 miles of pristine Atlantic beaches - the same beaches that greeted Ponce de Leon on his historic 1513 discovery of the land he named La Florida - an area whose boundaries included what would later become the eastern United States. For more information on events, activities, holiday getaways and vacation opportunities in St. Augustine, Ponte Vedra & The Beaches, go to the Visitors and Convention Bureau website at FloridasHistoricCoast.com, become a fan on FACEBOOK or call 1.800.653.2489
And if you would like more information about the fabulous Sawgrass Marriott Golf Resort & Spa, or to book your room, a round of golf at one of eight on-site golf courses, or a visit the luxurious Sawgrass Spa, visit http://www.sawgrassmarriott.com.