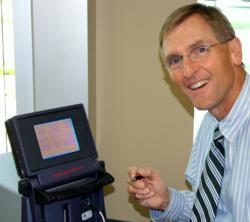 Richardson, TX (PRWEB) November 20, 2012
Dr. Kerry M. Goad educates patients on the need to prevent gum disease. Millions of adults have gum or periodontal disease and many do not actively seek proper treatment, and those who wait too long require aggressive treatment. Those in the early stages of dental periodontal disease can be treated with minor procedures such as scaling and root planing. The sooner the disease is treated, the less likely one is to suffer from the problems associated with the advanced stages of the disease.
Gum disease can cause gums that are sensitive or that tend to bleed easily. This early stage of the disease is often referred to as gingivitis. In later stages, the jawbone can deteriorate or dissolve, which allows the teeth to become loose. Eventually, teeth may fall out as gums recede. While these dental issues are bad, dental periodontal disease has also been linked to heart disease, stroke, diabetes and other major health problems. Maintaining proper dental care is important not only to dental health but to overall health.
When plaque stays on the teeth it allows bacteria to grow more quickly, which irritates the gums. The gums tend to pull away from the teeth roots, and this allows the plaque to settle lower on the teeth. It eventually hardens into tartar which is extremely difficult to remove with a regular toothbrush, particularly if it is below the gum line. Scaling and root planing is a procedure that removes the tartar from the tooth root, and then the tooth is polished to provide a clean surface that the gums can reattach to. The procedure is relatively simple and is quite successful in removing bacteria that cause dental periodontal disease. It is up to the patient to follow a proper regimen of dental care to prevent recurrence of the disease.
Dr. Goad promotes good dental health by treating patients in all stages of gum disease. The sooner the disease is treated, the fewer problems generally result. To learn more about scaling and root planing and periodontal disease, visit http://www.dallasgumsurgery.com.
Goad Dental is a general practice offering patients personalized dental care for Richardson, TX. Dr. Kerry M. Goad received his Doctor of Dental Surgery (DDS) from Baylor College of Dentistry in Dallas, Texas. He completed advanced training in restorative dentistry at the L. D. Pankey Institute in Key Biscayne, Florida, and is part of one percent of dental professionals providing the most recent FDA cleared laser procedure for gum disease and periodontal treatment. To learn more about Goad Dental and their dental services visit their website at http://www.dallasgumsurgery.com and call (972) 690-6653.