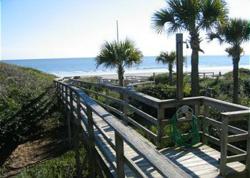 "There's no better time to plan your visit to Kiawah and Seabrook Islands and tour the "Best City in the World!" —Courtney Hahn
Kiawah Island, SC (PRWEB) November 20, 2012
Pam Harrington Exclusives, a boutique real estate and vacation rental firm specializing in the Kiawah Island, Seabrook Island and Charleston areas, is pleased to announce Charleston's recognition in two top travel related categories. For the second year in a row, Charleston was nominated "Top City in the United States" in the Conde Nast Traveler 2012 Reader's Choice Awards. Charleston also took first place in the "Top Destination in the World" category- just edging out Capetown, South Africa. The Conde Nast Traveler Readers' Choice Awards, known as the gold standard in the travel industry, polls readers in six categories including atmosphere and ambiance, culture and sites, friendliness, lodging, restaurants, and shopping.
Charleston's infamous Broad Street also received high honors by the American Planning Association in their "2012 Top 10 Great Streets" award. In an article from ABC.com, Broad Street is described as "one of the most historically and architecturally significant streets in the country, a street that embraces the past while living in the present and planning for the future." Voted for its 12 blocks of walkability, historical significance, and southern charm, Broad Street offers a diverse group of buildings including the 4 corners of the law where Broad and Meeting Streets intersect, countless museums, locally owned restaurants and scenic parks.
"There's no better time to plan your visit to Kiawah and Seabrook Islands and tour the "Best City in the World!" said Courtney Hahn, rental specialist at Kiawah Exclusives. "Charleston's spectacular autumn weather brings mild temperatures with cool evenings, perfect for a sunset walk on the beach or scenic stroll through historic Charleston."
Charleston is only a 30-minute drive from Kiawah and Seabrook Islands, and many visitors choose to explore this city rich in history before settling down at Kiawah or Seabrook for a peaceful beach or golf vacation. Discounted winter rates for Kiawah and Seabrook vacation rentals offered through Pam Harrington Exclusives begin in mid-October and run through March 16. The winter months on Kiawah and Seabrook offer secluded beaches, open tee times at golf courses, and the lowest prices on beach rentals.
About Pam Harrington Exclusives: Founded in 1978, Pam Harrington Exclusives offers the finest in Charleston real estate. As part of the Pam Harrington Exclusives family, Kiawah Exclusives and Seabrook Exclusives are uniquely tailored to serve clients interested in Kiawah Island and Seabrook Island vacation rentals. Kiawah Exclusives and Seabrook Exclusives offer a wide array of homes, villas, and cottages, with beach views, golf views, and more.
In addition to an array of personalized services, Kiawah Exclusives and Seabrook Exclusives offer an easy online property search and rental booking engine, along with long-term rental services, and property management services.