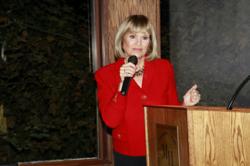 This is the second Su Socio de Negocios that we participated in and we are very happy with the outcome. So many people visited our booth today, more than we imagined, asking about our program. We look forward to returning soon.
Los Angeles, CA (PRWEB) November 20, 2012
Financial expert Julie Stav gave a lecture on leadership, inspiration and determination to the hundreds of Hispanic small business owners that gathered at the latest Su Socio de Negocios event of the year, which took place on November 14 at the Monterey Hill restaurant in Monterey Park. With the unique style that distinguishes the popular host of her own radio program, Stav insisted that in order to achieve success, business owners must make sacrifices and step outside of their comfort zone.
"No one comes to this country simply to watch soap operas or sports. We all come here for a better life," affirmed the Cuban motivational speaker before the crowd that held on to her every word. "You have to forget about making excuses and work hard. And if the circumstances are not in your favor, you need to create them. This is what entrepreneurs do every day."
The presentation exceeded the expectation of attendees such as Nancy Cruz, owner of her own permanent makeup business located in the city of Downey, who attended the event to meet Julie Stav in person. "Everything she said was very interesting and the advice she offered was practical enough that I can apply it immediately in my business and personal life."
The free Su Socio de Negocios event also included the participation of a panel of Hispanic business owners experts who offered the audience their tried and true business strategies to surviving a less than favorable economic climate. Martha de la Torre, CEO of EC Hispanic Media and El Clasificado, was part of the panel of experts and stressed the use of technology as one of her principal tips to "benefit your business, learn more about your target market and never stop learning". Efrain Ferrer, owner of Strong Tie Insurance, added that for him, the key is to "hire and train the proper personnel and to be on top of the latest labor laws."
Aside from its hundreds of attendees, the small business event also left its sponsors more than pleased. Diana Alfaro of DGS General Services traveled from Sacramento to teach attendees how to obtain their certification and work with the State of California. "This is the second Su Socio de Negocios event that we participated in and we are very happy with the outcome. So many people visited our booth today, more than we imagined, asking about our program. We look forward to returning soon."
The event, which was sponsored by Wells Fargo, the Department of General Services and Scholarshare, included its first ever Su Socio de Negocios awards presentation. The recognized entrepreneurs were Elias Zepeda of First Class Marketing Group for "Best Business Promotion," Roxy of Roxy's Bridal was recognized with "Best Use of Social Media" and Ralph Olguin, owner of RMD Group marketing company, was awarded "Best Use of Technology."
About Su Socio de Negocios and El Clasificado
"Su Socio de Negocios" is a series of events and expos in Spanish that El Clasificado debuted in 2006. El Clasificado, an EC Hispanic Media, is a multi platform media company that connects connects buyers and sellers in the Hispanic community. The 2013 Su Socio de Negocios calendar of events includes three expos and four breakfast seminars in different cities of California. The next date is set for February 27, 2013 at El Clasificado's headquarters in Norwalk, CA.
The El Clasificado print magazine has a verified weekly circulation of 500,000 that reaches 1.5 million weekly readers and is distributed from Fresno to San Diego and most recently to Yuma, Arizona. EC Hispanic also owns and operates elclasificado.com, which reaches 10 million monthly page views and susocodenegocios.com, which offers Hispanic small business owner's information on how to grow their business.
CONTACT:
Alicia Garcia de Angela, Director of Communications mediarelations(at)elclasificado(dot)com • 1-800-450-5852
For marketing or sponsorship opportunities, please contact Hugo Hernandez, Director of Marketing and Events hugo(dot)hernandez(at)elclasificado(dot)com or at 1-888-204-4591