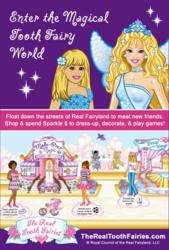 Giving presents is in the theme of giving and kindness, which is what the Real Fairyland community is all about.
Wilmington, NC (PRWEB) November 21, 2012
The Royal Council of Real Fairyland - http://www.therealtoothfairies.com - announced today the release of a vast array of new social gaming features, fashions and activities for Real Fairyland - just in time for the holidays. Girls – or Earthies as they are called by the Tooth Fairies – now get 8 new magical street scenes to explore, 200 enchanting new fairy fashions for avatar dress up in and the ability to send magical presents to new and old friends alike inside the child-safe fairy community.
Real Fairyland, the award-winning interactive world that builds character and confidence in girls ages 5-10, already featured over 40 fairy settings, silly spells, virtual shopping, customized decorating, makeovers and fashion, sports and dream-building activities. With the site's explosive growth and popularity over the past year, it was time for a major expansion.
"Millions of Earthie girls come to our site regularly because it's a magical, fun, and captivating place to meet their Tooth Fairy and experience a totally safe community of friends who are all dressing up and playing imaginative fairy games in Real Fairyland," says Marilyn Bollinger, President of the Real Tooth Fairies, LLC. "We wanted to add to their creative play experience even more, so we created a virtual world of all the Real Fairyland street scenes where girls float their ME Dolls along the rows of shops, games and attractions as they show their newest dress-up fashions. It feels like you are right there with your Tooth Fairy who loves you so much!"
Each day, girls rush home from school to check their castle rooms to see the presents that their friends have delivered to their rooms. Earthie girls pick their favorite places on the magical map and are transported to places like the Fairy Flyway, Magic Street, and the Castle Jewel Garden. Now Earthies can visit the Dancing Dolphin Ballet School on Magic Street, float along Fairy Flyway to explore magical places like Confetti Party Station, Surprises Central, Poof Potion Shop and Kindness Station.
"A live feed of each girl's last site activity is seen on her cloud as she floats down the fairy streets. We've also expanded the dress up play, adding outfits for each Earthie Girl's ME doll, so now she can dress up for holidays like Halloween, Thanksgiving, Christmas and Hanukkah," says Bollinger. "Girls love to decorate their castle rooms for those holidays as well. It's all part of the fairy magic that our site brings to every event in a girl's life."
Another popular new feature allows a girl to give her friends gifts. With fairy magic, she can send a friend something she can really use, like new décor for her castle hotel rooms or her castle pool or party room. Girls can also send a friend a new fairy fashion to wear that can only be found at the "Surprises Central" present shop. "Giving presents is in the theme of giving and kindness, which is what the Real Fairyland community is all about," says Bollinger. The site continues to win awards for their Every Kindness Counts program, where girls pick online kindness to do in their family as they move up 8 Kindness Levels.
Parents rave about the site because they enjoy playing an active part in helping the Tooth Fairy. The entire tooth fairy solution is right on the site, all in one stop. Parents praise the brand's positive values, the focus on kindness and family togetherness, and the 20 Lost Tooth Virtues that bring a new virtue for each lost tooth. The Real Tooth Fairies are a mom or dad's partner in celebrating each girl and helping her to know that she is a true gift to our world.
About The Real Tooth Fairies
The Real Tooth Fairies are represented to Earthies by the Royal Council of the Real Fairyland, LLC, an entertainment company dedicated to the production of excellence in programming and interactive media, tied to consumer products that inspire imagination, foster creativity, and encourage children to spread kindness and change the world. The Real Tooth Fairies focus on character building through positive role models, the 20 Lost Tooth Virtues, and Every Kindness Counts. In addition, a school kindness program involves students in a 4-week program wherein kids are heroes for kindness in their family, school, and community while supporting a global charity.
Marilyn Bollinger, president of The Real Tooth Fairies, is the author of 30 Disney books and has consulted for LeapFrog, Fisher-Price and other top children's companies. As a licensed clinical social worker, she practices family and children's therapy and is leader of parenting workshops. And of course, she's honored to be the Earth's ambassador to all things Real Fairyland, where Love is Magic and Every Kindness Counts!
For more information on the Real Tooth Fairies, please contact: Rachel Frankel at 910.509.0565.
Learn about the Real Tooth Fairies at http://www.TheRealToothFairies.com/guest-services/about-us. Girls can Get Matched to their Tooth Fairy at http://www.TheRealToothFairies.com/registration.
Girls can ask their tooth fairy to fly personalized tooth fairy letters to their pillow at http://www.TheRealToothFairies.com/ask-magic-letters. Shop for treasures at The Real Tooth Fairies Magic Street Shops at https://shop.therealtoothfairies.com/ For a Guide & Gift for parents to get a free Personalized Tooth Fairy Letter go to http://www.ToothFairyForParents.com. To spread Kindness in your family today go to http://www.therealtoothfairies.com/kindness.