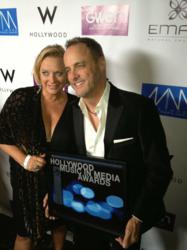 From the day we met, Gary committed to GWEN's mission to help transform life beyond abuse. His song 'Unbound' is a heartfelt anthem to people everywhere to support each other.
Dallas, TX (PRWEB) November 21, 2012
Dallas singer/songwriter/actor Gary Lynn Floyd won Best Adult Contemporary award for his original "Unbound" the Hollywood Music in Media Awards at the Fonda Theater in Los Angeles. Floyd performed the song at the ceremony.
The Global Women's Empowerment Network's (GWEN) co-founder and COO Tess Cacciatore used the event to officially announce "Unbound" as the organization's theme song.
GWEN is a global online community that harnesses the power of technology and multimedia to connect and empower those suffering from abuse. Through mobile and online platforms, GWEN provides communication and cause-related solutions that inspire victims to cultivate, strengthen, and share their inner voice to gain confidence and heal.
Lyrics for "Unbound" underline the organization's "Tell Us Your Story" initiative launching this month which invites GWEN's global community of members to share their vision, passion, and experiences of healing through the WeVideo (http://www.wevideo.com) cloud-based video editor.
Known for his soulful blend of pop, country and R & B, Floyd said he wrote the song "Unbound" after a period of soul searching. "I was living in Nashville and pounding the pavement, playing my songs for anyone who would listen. I had also been exploring the spiritual practices of meditation and yoga. It was a time of letting go of who I thought I was supposed to be and learning to become more authentic, not only in my life, but in my songwriting."
Floyd said it was a chance meeting with Cacciatore at an ASCAP showcase last summer that started the idea for the theme song. "I sang 'Unbound' that night and afterwards Tess came up and said 'I've got to have that song for GWEN.' It was one of those chance encounters that you can't plan, but when they happen, you know they're a bit of divine intervention.
"I'm humbled and honored that GWEN has chosen it as their theme song. I believe in the power of music to bring healing and this is evidence of how it can lift the vibration and soothe the soul," he said.
Cacciatore said "Gary Lynn Floyd is an amazing human being and an impressive talent. From the day we met, Gary committed to GWEN's mission to help transform life beyond abuse. His song 'Unbound' is a heartfelt anthem to people everywhere to support each other. The feel, lyrics, music and spirit of the song is perfect for our community for sharing and healing. I can't think of a better song to represent GWEN."
Cacciatore explained that the organization created the "Tell Us Your Story" campaign to give a voice to those who are ready to share and begin to heal. "The campaign enables women, men, and children to share their journey of tragedy to triumph through multiple creative channels — video, multi-media and written submissions — and participate in a global search for the most moving empowerment story."
Floyd is a native Texan from Conroe. He began picking out melodies on the piano when he was four and has gone on to an acclaimed career on stage, television and film. The Dallas Observer says, "His original ballads pound with soul and fire."
In 2010, Floyd was nominated for three Out Music Awards, including Album of The Year for his critically acclaimed EP, The Gospel of Zen. His most recent CD, Then + Now, is a retrospective of original songs over the past decade and is available here: http://www.reverbnation.com/garylynnfloyd.
Floyd was recently featured on the CW series "TroubadourTX," a music documentary following Texas singer/songwriters. Theatrical credits include Next to Normal, Grey Gardens, AIDA, Crimes of the Heart and Pumpboys & Dinettes.
For more information on GWEN, please visit:
http://www.GWENnetwork.org
https://www.facebook.com/GWENorg
http://twitter.com/gwENorg
http://www.youtube.com/user/GWENorg
Media Contact: Karin Olsen / AMAZON Marketing Partners / 310-497-0052 / karin(at)amazonmarketingpartners(dot)com