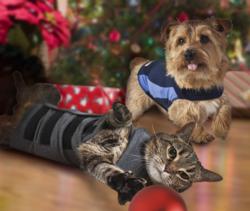 We become so busy during the holidays that sometimes we forget about the stress it can cause our pets
Durham, NC (PRWEB) November 20, 2012
As festive and fun as the holiday season can be, it can cause many pets to suffer from severe anxiety and stress. Unfamiliar holiday décor and lights, busy holiday parties and increases in guests at your home may make your pets feel anxious, bark uncontrollably, chew moldings, dig under fences, or run into traffic tying to escape the unfamiliar activity. Why put your pet, and your family through this added stress during an already busy time of year when there's a simple, effective solution available?
With its patent-protected design, the Thundershirt's gentle, constant pressure has a dramatic calming effect that has already helped tens of thousands of dogs with anxiety problems. The product is also used and recommended by vets and trainers worldwide. Anxiety experts believe that pressure has a calming effect on the nervous system and may release calming hormones like endorphins or oxytocins.
"We become so busy during the holidays that sometimes we forget about the stress it can cause our pets," said Phil Blizzard, founder of Thundershirt.
In addition to having a Thundershirt, the company offers parents the following tips for helping pets cope with the stresses of this holiday season.
1. Start practicing! Have a friend ring your doorbell so you can teach your dog how to sit and stay before your big holiday party.
2. Try to maintain your typical pet feeding and exercise routine, even though your schedule might be really packed.
3. If you prefer to keep your pet in a quiet room during your party, make sure to have plenty of water, food, treats, toys and activities to keep him occupied and comfortable.
4. Remind your guests of the rules of your pet, particularly in regards to treats and feeding.
For a limited time, the company is offering a FREE personalized stocking and a squeaky toy for holiday purchases! Simply use code GIFT12 at checkout and be sure to type the name you want embroidered in the "Gift Notes" box.
The Thundershirt for Dogs is available in sizes XXS to XXL, and is sold in Heather Grey, Blue Polo and Pink Polo. Suggested retail starts at $39.95.The Thundershirt for Cats is available in sizes S, M and L, and comes in Heather Grey. Suggested retail is $39.95. Both products can be personalized with custom embroidery for an additional charge.
Visit http://www.Thundershirt.com for more information, or contact Kerry Sutherland at K. Sutherland PR, Kerry(at)ksutherlandpr(dot)com or 949-328-4895 to request a product sample, high-resolution image or interview.

About Thundershirt
Founded in 2009 in Durham, N.C., Thundershirt's mission is to bring relief to the millions of dogs, cats and their families struggling to cope with anxieties. The Thundershirt is designed to apply a constant, gentle pressure to a dog or cat's torso creating a dramatic calming effect for most users. Thundershirt continues to investigate dog and cat anxiety and fear issues with scientific-based studies and surveys from recognized veterinarians and pet owners. Thundershirt has already helped hundreds of thousands of dogs across the country and around the world.
The company also donates thousands of Thundershirts and funding to rescue groups and shelters to help these organizations manage their anxiety cases and find permanent homes. Thundershirts are sold online at http://www.thundershirt.com and by retail stores, veterinarians, trainers and kennels across the country.
Online: thundershirt.com
Facebook: facebook.com/Thundershirt
Twitter: @Thundershirt
Pinterest: pinterest.com/Thundershirt