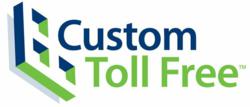 "Providing industry specific numbers is our way of helping clients find a better, more effective number, fast." -Christy Green, VP of Sales and Marketing. Custom Toll Free.
Mill Creek, Washington (PRWEB) November 20, 2012
The 800 number prefix is an ocean of vanity numbers for business, information, public service, recreation, and more. The massive volume of 800 vanity toll free numbers in existence bears testament to the amount of successes and services, spanning generations and top standards for customer service that Custom Toll Free offers. In this day and age not having a toll free number service not only hinders customer outreach, but it can also give the competition of a business an unwanted competitive edge.
In the spirit of toll free marketing, Custom Toll Free now offers industry specific 800 toll free number prefixes for various industries looking to step up their game in brand visibility, marketing flexibility, and maximize ROI. Vanity toll free numbers benefit an attorney looking to advertise the area of law he or she specializes in, or a construction worker in the development and construction field looking to get an advantage in the edifice-establishment game beyond the brick and mortar (Internet/e-commerce). Let's not forget the medical field; an 800 number provides more than just marketing, but rather a whole new lifeline.
Experienced professionals in various fields such as legal, real estate, construction, medical, agree that having an 800 vanity number through which customers and clients can contact a business directly is an essential quality towards brand establishment, even more than having .com addresses or online stores. Regardless of industry or size, no successful business can afford not to take advantage of toll free services.
These prefixes are Custom Toll Free's way of stepping up the service by helping businesses obtain the best toll free numbers for their businesses and bringing the biggest ROIs and customer accessibility. Already a leading provider of 800 toll free numbers, Custom Toll Free now offers 855, 866, 877 and 888 toll free prefixes for your business.
How do 800 toll free services remain relevant and essential in guaranteeing ROIs for businesses across the board? The truth lies in the direct connection. Customers still prefer speaking to a live person on the phone. It's the personal connections that lead to trust in businesses. Exceling in effectiveness, Custom Toll Free's vanity toll free numbers cater to all businesses in any industry. And with industry-specific 800 number prefixes, the messages and the connections become clearer. 800 numbers don't just offer service, they serve trust.