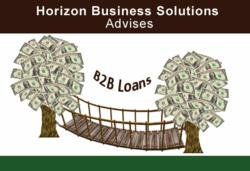 Loan Solution for Entrepreneurs from Horizon Business Solutions, Columbus OH
Columbus, Ohio (PRWEB) November 26, 2012
Entrepreneurs looking to boost their small businesses might be better off looking to big business than to loans from financial institutions and government programs.
That's the view of a number of experts on economics and small business, according to Horizon Business Solutions, and it's illustrated in a recent article in The New York Times. There's a growing trend toward big business helping small business by mentoring, providing loans and sponsoring new opportunities.
Robb Mandel's story focused on the Samuel Adams brewery's efforts to help a small Boston brewery by "speed coaching" employees and managers on day-to-day operational and management issues.
Such programs have become popular since the recession. Starbuck's raises money from customer donations to fund loans to small businesses, and American Express has sponsored the "Small Business Saturday" initiative for the past three years. Corporations like Wal-Mart, Chase Bank and Staples have sponsored contests which offer winning small businesses opportunities for working capital and office equipment.
It's called cause marketing, which links brands to social issues. And it's a boost to both the small businesses that receive the aid, and it's especially a boost to big companies like Starbuck's and Wal-Mart, who are sometimes viewed as companies which drive local competitors out of business.
"How you improve the American economy and create jobs is on everybody's minds these days," says David Hessekiel, founder and president of Cause Marketing Forum. "Companies know that it's on the minds of their consumers, and they want to be seen as part of the solution, not as the enemy."
And these private sources may be replacing other loan programs such as those sponsored by the Small Business Administration, according to Forbes Magazine entrepreneurship blogger, Ryan Caldbeck.
Many small companies find debt capital difficult to obtain in the current economic climate, and that can be a big obstacle to success. "The best way to insure that a good business fails is to undercapitalize it," Caldbeck says.
But the Small Business Administration recently said that the number of small business loans of $1 million or less declined 7 percent between 2010 and 2011 and by 15 percent since 2008.
So what are the alternatives for a small business seeking a loan of $1 million or less.
Caldbeck suggests turning to "crowdfunding" sources which make loans from a pool of small individual contributors.
"Crowdfunding helps create efficiency in the market by connecting high quality companies with great investors," he says.
Horizon Business Solutions tracks trends in business to provide expert advice for small business owners in all aspects of planning, from securing financing, providing accounting and bookkeeping services to payroll and IT services. Call (614) 577-1700 or visit the HBS website at http://www.horizonbiz.com. for more information.