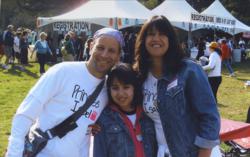 "It was wonderful to see so many familiar faces from school showing up to support this important cause." Becky Neidorf, Isabel's mother.
Northridge, CA (PRWEB) November 20, 2012
On Sunday, October 28, 2012, Highland Hall Waldorf School students, faculty and parents participated in Los Angeles' first annual Brain Tumor Walk in Exposition Park, helping to raise over $90,000.
"Our school joined the Brain Tumor Walk to support one of our eighth grade students, Isabel Neidorf, who was diagnosed with 'Oligo,' a rare and inoperable brain tumor early in her life," says Bari Borsky, Highland Hall's Director of Community Development. "Isabel's parents have long been advocates for brain tumor research, supporting annual walks sponsored by The National Brain Tumor Society. When we learned there would be an L.A. walk, there was no question about whether we would participate."
Oligodendroglioma, or "Oligo" for short, is a rare tumor in pediatrics. Its cause is undetermined. Many patients are first diagnosed due to the onset of seizures. The tumor and accompanying seizures can cause symptoms such as motor weakness or cognitive decline.
"There just isn't enough attention given to this slow-growing tumor," says Isabel's mother, Rebecca Neidorf. "It was wonderful to see so many familiar faces from school showing up to support this important cause. Between the donations online at Team Isabel and Team Highland Hall on the Brain Tumor Community website, friends of our family and event sponsors, we are grateful to have raised a lot of badly needed funding for this research. And it's not just for Isabel, but for other families in our community who are also fighting for their lives!"
Additional donations are still being accepted and may be made to http://www.braintumorcommunity.org under Team Highland Hall.
Highland Hall Waldorf School, located in Northridge, CA and founded in 1955, exemplifies the rich educational traditions of the Waldorf School movement. Its unique approach to learning successfully addresses the changing needs and capacities of children at each stage of development from PreK through High School. Fully 98% of its high school graduates move on to renowned colleges and universities; 42% of Waldorf graduates pursue college majors in mathematics or science. Featuring a curriculum of academically challenging lessons infused with arts and hands-on learning, Highland Hall provides students with a solid academic foundation, the ability to think creatively, a sympathetic interest in the world, self-confidence, and an abiding moral purpose.
The National Brain Tumor Foundation was founded in 1981 by a small group of San Francisco-based healthcare providers and laypeople whose lives had been affected by brain tumors. The Foundation's mission was to provide comprehensive resources and support services for the brain tumor community. During its 30-year tenure, the group established a number of pivotal programs for the community, including the first national conference for people with the disease, a national volunteer support network, and the only searchable database of brain tumor treatments centers in the United States.
The Brain Tumor Society (BTS) – was founded in Boston in 1989. Bonnie Feldman established the group after the loss of her 17-year-old son, Seth, to a brain tumor. After its formation, BTS played an instrumental role in raising funds to invest in brain tumor research. The Society funded pioneering research during its 20 years, including more than 90 scientists dubbed a "who's who" of brain tumor experts.
In 2008, the leadership of the National Brain Tumor Foundation and the Brain Tumor Society decided to strengthen their collective efforts by uniting to form the National Brain Tumor Society. In March 2010, NBTS grew even more by joining forces with the Kelly Heinz-Grundner Foundation (KHG) – a Delaware-based group dedicated to raising awareness about brain tumors. KHG was founded in 2004 as a tribute to Kelly, who died in September, 2004, after a two-year battle with a brain tumor.
On October 28, 2012 the Los Angeles Brain Tumor Walk was held in Exposition Park.