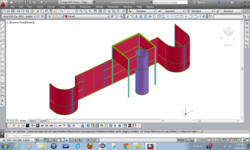 Atlanta, GA (PRWEB) November 22, 2012
MALEKKO Software Systems announced today that the AutoPanel Tool in their Xzibitware AutoCAD plug-in has been improved so that it now allows users to create and place flat rectangular and curved panels in exhibit drawings at least 20 to 25 times faster than when using AutoCAD alone.
AutoPanel also now offers users the option to create panels from 3D Solids or from block templates scaled to needed sizes. Each panel automatically contains panel Part Information that can be reported such as panel Part Number, Size, Material used, Side A and B Colors, Artwork Status, Rented or Sold Status, estimated Weight and Cost, and an optional Note field. The time-savings from using the AutoPanel Tool in comparison to just using AutoCAD alone is demonstrated in the attached video. It is recommended that the video quality be set to 720 HD for the best viewing experience (Full-Screen viewing also recommended).
About MALEKKO Software Systems:
Since 1995, MALEKKO Software Systems has been working with exhibit designers and detailers to identify their needs when creating exhibit and structural detail drawings and exhibit materials lists. Their guidance has resulted in the Xzibitware software product created specifically for those working to design and/or detail Exhibits using AutoCAD. Current product users range from small design studios and independent designers/detailers to major exhibit design companies. Xzibitware works inside both 32 bit and 64 bit versions of AutoCAD 2010, 2011, 2012, and 2013.