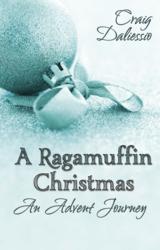 (PRWEB) November 23, 2012
Liberty University Press published "A Ragamuffin Christmas: An Advent Journey" this month. In 2008, when the mortgage industry collapsed, author Craig Daliessio lost his career and his livelihood, becoming homeless. During that time, he began writing a series of Advent stories for his 10-year-old daughter, wishing to capture the joy of Christmas and attempting to look past the dark times in which they were living. Daliessio's collection of short stories, "A Ragamuffin Christmas: An Advent Journey," provided him with hope and pushed him to overcome his struggles. Written to touch the hearts of young and old alike, "A Ragamuffin Christmas: An Advent Journey" relives the Christmas story in a new way, providing a fresh perspective on the timeless tale. It answers questions, like "Why did Jesus come to the Earth as a newborn baby?" and "Why did the King of Kings live a life of poverty instead of a life of royalty and riches?"
"A Ragamuffin Christmas: An Advent Journey" tells the story of 24 unique characters, each with different backgrounds and problems – and each one laying their worries, fears, and troubles at Jesus' feet during the celebration of His birth. From a Roman soldier to a murderer, from a broken-hearted mother to a patriarch, each one experiences a life-changing moment of redemption through Christ.
About the Author:
Craig Daliessio lives in Franklin, Tenn. He is an author, speaker, and father who discovered his love for literature and writing at a young age. He is a masterful storyteller and communicator who uses his favorite authors' writing styles as inspiration for his own. Daliessio has a passion for Jesus and sharing God's work through his life.
Daliessio is a Liberty University graduate with a bachelor's degree in religion. He played on the hockey team for the Liberty Flames and continues to play in a local men's league in his hometown.
About Liberty University:
Liberty University, located in Lynchburg, Va., is the world's largest Christian university. Nearly 100,000 students attend classes on its 6,800-acre residential campus and study in its thriving online education program.