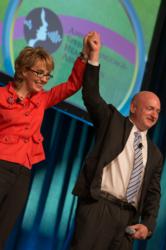 "People with aphasia can get better. I'm getting better!"
Rockville, MD (PRWEB) November 21, 2012
Gabrielle Giffords and husband Captain Mark Kelly honored with the American Speech-Language-Hearing Association's (ASHA's) Annie Glenn Award at the 2012 ASHA Convention at the Georgia World Congress Center in Atlanta on Nov. 16. Photo Credit: Ben Sledge/ASHA
Background on The Annie Award:
Annie Glenn, wife of Senator John Glenn, is known nationwide for her advocacy for those with communication disorders. Each year, the "Annie" is given in her name to an individual who demonstrates Mrs. Glenn's spirit. Senator and Mrs. Glenn presented the 2012 Annie Glenn Award to Congresswoman Gabrielle Giffords and her husband, Captain Mark Kelly. Their incredible story has captivated the speech and hearing professional community and, indeed, the entire nation.
In January 2011, Giffords was critically injured by a gunshot wound to the head at a public meeting with constituents near Tucson. Since that time, she has concentrated tirelessly on rehabilitation so she may be able to walk, speak, read, and write again. (Read more about Giffords' rehabilitation and treatment in the June 5 issue of the ASHA Leader.)
Giffords and Captain Kelly have inspired us all by their hard work and their steadfast dedication to her recovery and to each other. Their story—told in the memoir, Gabby: A Story of Courage and Hope—is truly evidence of excellence in action. On behalf of ASHA members, and in consideration of our clients and their families, the Association is pleased to recognize Gabrielle Giffords and Captain Mark Kelly with the Annie; they have touched all of us by their example of perseverance, courage, and hope in the face of adversity.