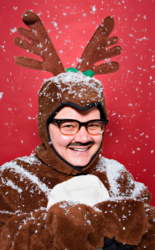 New York, NY (PRWEB) November 22, 2012
Comedian and larger-than-life personality MURRAY HILL (aka Mr. Showbiz) gives the much needed gift of holiday cheer and entertainment to New York City with his legendary Yuletide tradition: A MURRAY LITTLE CHRISTMAS at Le Poisson Rouge, Saturday, December 15 at 8pm. Expect an evening of hilarious and wacky skits with the cast, a sleigh full of cheesy holiday songs, plenty of nuts, fruits and tree trimming. Murray also promises a few tender moments when he sings his signature "Have Yourself a Murray Little Christmas."
'Tis the night before Christmas. Murray finds out the theater where his annual holiday show is booked, has been flooded and is still without power due to the Hurricane Sandy! Murray is devastated and wonders if he should just throw in the showbiz towel and cancel the show. He's lost all hope and his special guests were counting on the paycheck and free drink tickets. Then, almost if by divine agnostic intervention, a magical hipster elf (an out of work actor who specializes in over-acting) suggests to the downtrodden cast of characters to do the show in the dark by candle light. As the loose plot suggests, even though the Mayor cancelled the NYC Marathon, somehow Murray's holiday show miraculously goes on (without the use of any hidden generators or agendas). Murray and the gang discover what matters most is their love for each other and to never give up hope, especially during the darkest of times.
This non-returnable gift of holiday entertainment captures the joy and jubilation, the Murray-ment and magnificence of the holiday season (all denominations, orientations and sexual proclivities will be celebrated). Have Yourself a Murray Little Christmas now, you'll be glad you did.
This year's special guests:
BRIDGET EVERETT (carnal chanteuse and fearless cabaret star), ERIN MARKEY (wacky performance artist), CARMINE COVELLI (a.k.a. SEBASTIAN THE ELF), THE NYC BURLESQUE CHOIR (conducted by Shelly Watson) with live swinging holiday music from Murray's band THE CRAIG'S LIST QUARTET (Jesse Elder–piano, Kenball Zwerin–bass, Matt Parker–saxophone, Arthur Vint–drums and rimshots). SANTA CLAUS and RUDOLPH the fake 99 cent store red-nosed reindeer are scheduled to appear.
A MURRAY LITTLE CHRISTMAS
SATURDAY, DECEMBER 15 at 8pm, doors at 7pm
(LE) POISSON ROUGE (158 Bleecker St. btw Sullivan & Thompson)
$20 - standing room only
$25 - seated, general admission
$50 - VIP tickets, reserved front seating and an exclusive new Murray Hill T-shirt!

A portion of proceeds will be donated to Ali Forney Center (LGBT youth homeless shelter) that was destroyed by hurricane Sandy.
Tickets can be purchased online http://www.lepoissonrouge.com or at the box office. For info call: (212) 505-FISH (3474)
Discounted tickets are available through Murray's website:
http://www.mistershowbiz.com or through his Twitter updates: http://twitter.com/murray_hill
MURRAY HILL, http://mistershowbiz.com
NYC nightlife legend, comedian, and renowned entertainer MURRAY HILL, "the hardest working middle-aged man in show business," is a relentless retro shtick slinger, larger-than-life personality and freewheeling ad-libber. The New York Times anointed Murray "Downtown's New 'It' Boy." He's been included in "Best of New York" lists in the Village Voice, Time Out, Paper and New York Magazine; inducted into Paper's Nightlife Hall of Fame; selected as OUT magazine's Top 100 influential performers; and named one of the top 12 gender-bending performers in NYC by Time Out.
Murray was just the U.S. Showbiz Correspondent for the pop-culture TV show, Dirty Digest, on E4 in the UK. Murray Hill is the premier and exclusive host for international burlesque superstar DITA VON TEESE. Murray hosted her live show "Strip Strip Hooray!" to a sold-out, record-breaking 10 shows at the famed ROXY on Sunset in Los Angeles. This May, they toured Live Nation's House of Blues venues and sold-out all dates in Las Vegas, Los Angeles, San Francisco, Santa Ana, Portland, Seattle, Dallas, Houston, and New Orleans.
He's hosted and starred in the groundbreaking queer events MISS LEZ PAGEANT, MR. TRANSMAN, and the award-winning Monday Night Drag Bingo. He's appeared in music videos from LE TIGRE, THE GOSSIP, and SCISSOR SISTERS. He's had a string of recent cameos such as: HBO's Bored to Death, two episodes of STARZ's Gravity, HBO's Taxi Cab Confessions, BRAVO's Real Housewives of New York, UK's E4 Dirty Digest and The Murray Hill Show (pilot); music video for TV ON THE RADIO's Grammy nomitated No Future Shock; and documentary Florent: Queen of the Meat Market. He's thrilled to have an essay included in Dan Savage's new book "It Gets Better."