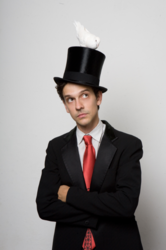 New York, NY (PRWEB) November 21, 2012
Returning to the Meet the Artist Saturdays series for the second time is Mario the Magician, with a LIVE performance at the David Rubenstein Atrium at Lincoln Center on Saturday, December 1, 2012 at 11:00AM.
Mario's show is an enthusiastic and interactive demonstration of live performance at its finest. Every detail has been labored over, from the handmade props to the slapstick gestures that have inspired comparisons to Charlie Chaplin and vaudevillians of times past. Mario will charm the audience with his signature top hat, his vintage suitcase full of magic routines, and his sidekick, a dove named Mozzarella. The performance will be accompanied by a jazz trio, the Sleight of Hand Band, led by platinum-selling songwriter Christopher Donohue, bassist for the likes of Emmylou Harris and Robert Plant.
"The charming Dust Bowl-era tableau on stage is the first hint of the precision that lies beneath Mario's slapstick bumbling. … [His] tragic clown persona lies somewhere between Charlie Chaplin, Jiminy Cricket, and Kermit the Frog. He wears his simple suit with pride and beams with wholesome optimism … he makes it look easy." – NY Magic Journal
In addition to the live performance, a 5-minute docu-promo video about Mario, entitled Building Magic, will be shown for the first time at this event. Catch a glimpse of the man behind Mario the Magician, once a hitchhiking wanderer, now a full-time NYC performer.
ADMISSION IS FREE but seating is limited and on a first-come, first-served basis. For information, call 212-875-5456 or visit http://www.lincolncenter.org/atrium. The Atrium is located at Broadway between 62nd and 63rd Street. Easy access via subway: No. 1 IRT Broadway local to 66th Street/Lincoln Center or A, B, C, D or No. 1 to 59th Street/Columbus Circle; Buses: M5, M7, M11, M66, M104 to Broadway and W. 66th St. Parking is available.
Meet the Artist Saturdays, the outgrowth of Lincoln Center's noted "Meet the Artist School Series," is in its second season of family-friendly programs at the David Rubenstein Atrium. The FREE series gives audiences of all ages the opportunity to experience the arts firsthand with world-class performers on the first Saturday of every month in the Atrium. "Meet the Artist Saturdays" programs take place at 11 a.m., last approximately 60 minutes and include opportunities for questions and answers; most involve audience participation. The programs feature a wide range of genres and artists, from classical to pop music, world dance to martial arts, and physical comedy to spoken word.
The David Rubenstein Atrium at Lincoln Center, the new community, visitors and ticketing facility, is home to an array of programs, services and amenities designed to welcome, inform and entertain the thousands of people who visit Lincoln Center and its surrounding community each day. This new public space is named in honor of the philanthropist, financier and Vice Chairman of Lincoln Center for the Performing Arts, in recognition of his $10 million gift to the Bravo Campaign. Serving as a gateway to Lincoln Center and the entire Upper West Side community, the Atrium offers—for the first time in Lincoln Center history—day-of discount tickets to available performances across the campus, in addition to access to full-price tickets via onsite kiosks and telephone services. Along with free performances, including Target Free Thursdays every Thursday night of the year, other attractions and amenities in the Atrium include: a 'wichcraft cafe, a departure point for expanded Lincoln Center tours, a staffed Information Desk, free Wi-Fi, and restrooms. The Atrium is open Monday—Friday 8 am-10 pm and Saturday and Sunday 9 am- 10 p.m.
The Meet the Artist Saturdays series is sponsored by Neuberger Berman.
photo by: KC Bailey