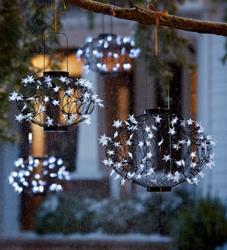 (PRWEB) November 20, 2012
Plow & Hearth heard about the Christmas balls and the joy they gave the Greensboro community and wanted to share the seasonal spirit. They developed a Christmas ball that is solar-powered, so it is easy to hang and does not require all the extension cords that were needed for the earlier balls. And in the spirit of giving, Plow & Hearth is donating a tree seedling to the National Forest Foundation for every one of the balls purchased during this holiday season. The company expects to donate over 2,800 seedlings to the National Forest Foundation to be planted in areas where fire, disease or encroaching civilization have threatened natural habitats.
Janice Coughlin, product manager at Plow & Hearth says, "This has been a great project. We have been working on the Solar Christmas Balls all year and to see how beautiful they are and to share them with our customers has been very rewarding. We are especially excited to be able to support the National Forest Foundation and the great work they do to restore our forests."
About Plow & Hearth
Plow & Hearth began as a small retail store in Madison, Virginia in 1980 and has grown to become a respected national catalog, retail and Internet company with more than 5 million customers. For over 30 years, the company has been a trusted source of unique, enduring products for the hearth, home, yard and garden, helping customers create an environment that is comfortable and welcoming, warm and personal. As part of their product development initiative, Plow & Hearth works with artisans and manufacturers around the world to develop innovative products created from uncommon materials and crafted by hand. Special consideration is given to those products made with environmentally friendly materials as well as products that will encourage customers to be more environmentally responsible, such as composting products and energy savers. Every item they sell is backed by a 100% satisfaction guarantee. The Plow & Hearth Family of Brands also includes quality toys from HearthSong® and Magic Cabin®, weather instruments from Wind & Weather® and innovative solutions from Problem Solvers®
About he National Forest Foundation
Founded by Congressional charter in 1991, the National Forest Foundation (NFF) engages Americans in community-based and national programs that promote the health and public enjoyment of the 193-million-acre National Forest System. The National Forest Foundation brings people together to restore and enhance our National Forests and Grasslands. As the nonprofit partner of the U.S. Forest Service, they engage America in community-based and national programs. For more information about resources, recreational and volunteer opportunities, and to subscribe to the electronic newsletter tree-mail™, visit http://www.nationalforests.org.