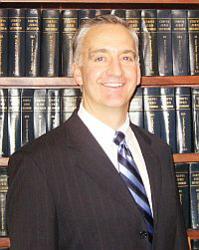 We would like to congratulate Dan Fitch on being selected as the 'Charlottesville Best Lawyers Personal Injury Litigation – Defense Lawyer of the Year.'
Charlottesville, VA (PRWEB) November 27, 2012
Best Lawyers, the oldest and most respected peer-review publication in the legal profession, has named Daniel Fitch as the "Charlottesville Best Lawyers Personal Injury Litigation – Defendants Lawyer of the Year" for 2013. Only a single lawyer for each practice is so honored.
Dan's practice includes defending institutions and individuals in civil matters throughout the Central Virginia and Valley of Virginia region. His practice also encompasses all aspects of intellectual property law (patents, trademarks and copyrights) and construction law. Best Lawyers compiles its lists of outstanding attorneys by conducting exhaustive peer-review surveys in which thousands of leading lawyers confidentially evaluate their professional peers. The current edition of The Best Lawyers in America 2013 is based on more than 3.9 million detailed evaluations of lawyers by other lawyers. Daniel Fitch received particularly high ratings in the surveys by earning a high level of respect among his peers for his abilities, professionalism, and integrity.
"We continue to believe – as we have believed for more than 25 years – that recognition by one's peers is the most meaningful form of praise in the legal profession," said Steven Naifeh, President of Best Lawyers. "We would like to congratulate Dan Fitch on being selected as the 'Charlottesville Best Lawyers Personal Injury Litigation – Defense Lawyer of the Year' for 2013."
Wharton Aldhizer & Weaver, PLC has been helping clients for over 160 years. The firm specializes in business, litigation, estate planning, and personal injury law. Its attorneys are experienced and committed to solving the problems of their clients. For more information, please visit http://www.wawlaw.com.
For additional information, contact Rebecca Rawley at 540-434-0316 or by email at rrawley(at)wawlaw(dot)com.